Left to participate!
The Georgetown Letterwinners Challenge is a fundraising initiative that allows former Hoya student-athletes to compete on behalf of their respective sports. During the challenge, you and your former teammates have an incredible opportunity to make a huge impact on the Georgetown athletics program(s) of your choice.
Here is what's up for grabs…
$20,000 

goes to the sport with the most new donors during the challenge

$15,000 goes to the sport that raises the highest dollar amount during the challenge
$15,000 goes to the sport with the highest percentage of alumni student-athlete donors during the challenge
Help us make history

Since the inception of the Letterwinners Challenge in 2015, the number of dollars and donors has grown steadily every single year.
2014-2015: 758 New Donors
2015-2016: 827 New Donors
2016-2017: 1,267 New Donors
2017-2018: Help us hit 1,350 New Donors!
Who doesn't like a little friendly competition?
Every gift made during the Letterwinners Challenge makes it possible for Georgetown's athletic programs to compete at the highest level. By giving back to the program(s) you love, you are creating new opportunities for our current Hoya student-athletes. Plus, it's your one chance every year to show that your sport still reigns supreme on the Hilltop.
Are you ready to help your sport win?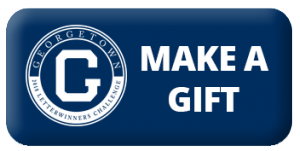 Already made your gift?
Thanks for making an impact! Now be sure to tell every Hoya you know, and encourage them to make a gift. With $50,000 on the line, every contribution could make a monumental impact on your preferred program.
________________________________________________________________________________

Did you know? 
Established in 2012, The Georgetown Letterwinners Society is Georgetown Athletics' official recognition effort for those individuals who have earned the University's athletic letter for competing on a varsity team or serving in a managerial capacity. The society is led by those who support The Annual Fund for Georgetown Athletics each year and serve as public leaders for the legacy that is Georgetown Athletics.