2016 BIG EAST Men's Basketball Tournament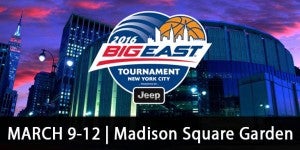 Single session tickets are available to the 2016 BIG EAST Men's Basketball Tournament, to be played at Madison Square Garden in New York, NY Wednesday, March 9 through Saturday, March 12, 2015. Don't miss your chance to see Georgetown, Butler, Creighton, DePaul, Marquette, Providence, Seton Hall, St. John's, Villanova, and Xavier in this incredible tournament.
Purchase ALL-Session Packages

To purchase an All-Session package for the 2016 Big East Tournament, please visit here.
BET Information
All-Session packages are available to donors of Georgetown Athletics at the $50 level and above.  The deadline for ordering packages will be Friday, February 19. Packages will be sent via FedEx in early March.