2019 Men's Basketball Summer Tour
Your Hoyas are headed to the Bahamas this August 10-17 for a summer tour! 
Georgetown University's men's basketball team will embark on a seven-day foreign tour this summer, traveling to the Bahamas August 10-17, 2019.
Planning to Make the Trip?
If you are planning to make the trip, please let Georgetown Athletics know by filling out this form!
Game Information:
The Hoyas will play a trio of exhibition games against the Bahamian national team at Kendal G.L. Isaacs National Gymnasium. The games will be played on Monday, 8/12 at 7 p.m., Wednesday, 8/14 at 7 p.m., and Thursday, 8/15 at 5 p.m. (all times local).
Game tickets are $5 per person per game and can be purchased at the door (advanced purchase is not required).  Concessions will be available for purchase as well.  It was previously stated on this webpage that games would be free of charge; it was recently determined that tickets would be $5 per person per game. We apologize for any inconvenience.
Events:
Please join your fellow Hoyas for events throughout the week. There will be pregame gatherings on Monday and Wednesday, a postgame gathering on Thursday, and lunch with the team, coaches and staff on Tuesday. For more information, please visit here.
Travel Packages:
Fans are encouraged to join the Hoyas and support the Blue & Gray on their Summer Tour.
Travel packages are available through Complete Sports Management.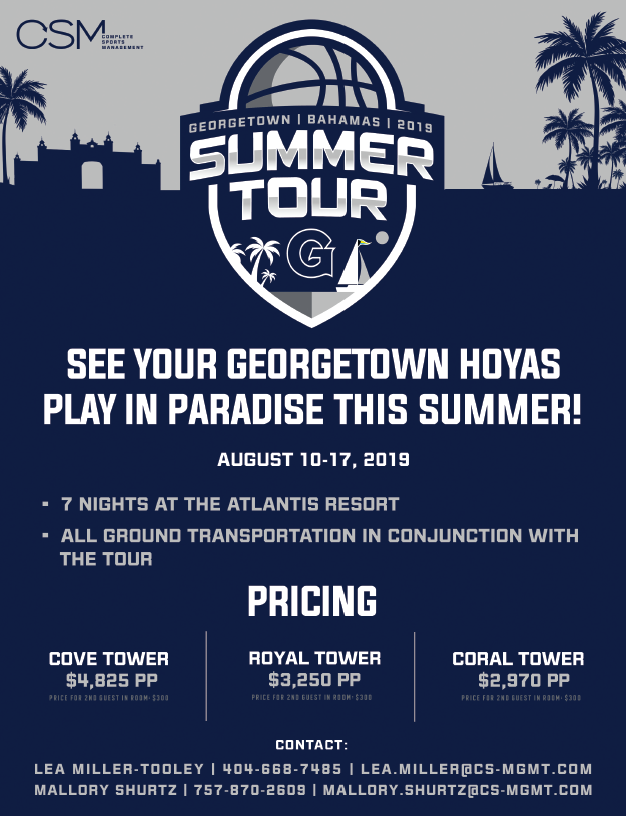 For more information and to purchase, please contact:
Lea Miller-Tooley | (404) 668-7485 | lea.miller@cs-mgmt.com
Mallory Shurtz | (757) 870-2609 | mallory.shurtz@cs-mgmt.com