2K Classic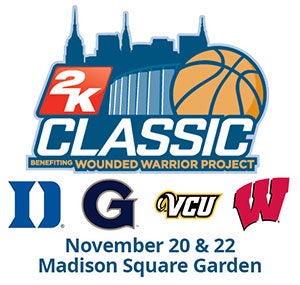 Tickets for Alumni and Fans
Tickets are available through Georgetown Athletics' corporate partner, Vivid Seats as well as through Ticketmaster.
The deadline to purchase through the Georgetown Athletic Ticket Office was Thursday, October 29. Those who have already ordered tickets through the Georgetown Athletic Ticket Office will receive their tickets by FedEx on or before Wednesday, November 18.
Tickets for Friday and Sunday are sold separately; tickets for each day include admission to both games of the doubleheader (tickets for Friday include admission to both semifinal games and tickets for Sunday include admission to both the championship and consolation game).


Game Information
This year's field includes Duke, Georgetown, VCU and Wisconsin. The semifinal games will occur on Friday, November 20; Georgetown will play Wisconsin in the first game of the doubleheader, which will tip-off at 5 p.m. ET (the Duke/VCU game will tip-off approximately 30 minutes after the conclusion of Georgetown vs. Wisconsin). The championship and consolation game will be played on Sunday, November 22, with the first game of the doubleheader beginning at 1 p.m. ET.
As part of this four-team, two-day tournament, Georgetown is guaranteed to play one game on Friday (vs. Wisconsin) and one game on Sunday (vs. either Duke or VCU).
*All tickets are subject to availability.  Standard fees apply to all orders.  All sales are final.
Hoya Blue Bus Trip
Thanks to the generosity of Coach John Thompson III, Hoya Blue will be offering a bus trip for Friday's 2K Classic matchup against Wisconsin at Madison Square Garden!
Tickets will be $20 and each purchase includes a bus ride to and from Madison Square Garden. The bus will leave from McDonough Arena at10:30 AM and will return to campus directly after the Georgetown vs. Wisconsin game.
Hoya Blue will be selling tickets to the roadtrip on Tuesday, November 17 from 11 AM-3 PM in Red Square (cash only).
Please e-mail Hoya Blue if there are any questions.