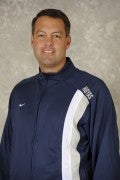 It's been a hard week to get our head around, starting with trying to play meteorologist. The game Wednesday against Providence was a Twilight Zone affair before it even began, as we had to move our kickoff up to 10 a.m. in response to a massive storm that was forecast to blow through the DC area. The early kickoff presented an empty stadium to greet one of the league's toughest opponents, and neutralizing our home field advantage was not what we were hoping for. The fact that Providence started the game out very sharply, and we put out our flattest performance of the season, didn't help things either! We found ourselves down 1-0 under two minutes into the game, and a well executed counter attack late in the first half put us down by two goals for the first time all season. The Friar goalkeeper, who seems to put out his best performance of the season whenever they line up against us, was true to form again making several very good stops to preserve the lead. The loss was our first in seven games and snapped a five game shutout streak in the process.
Results like the game on Wednesday can serve to refocus a team if responded to in the right way. Going on the road in order to rebound from a loss is never easy, but being together on the bus, eating and staying at the hotel might be the best thing for the group just now. We are heading up on the Hoyas bus to New Jersey for the game tomorrow against Seton Hall as I write this, with a determined group to get back into the winning habit.
The Week Behind: Providence, 0-2 loss
The Week Ahead: Saturday, October 18 at Seton Hall – 1:00 p.m.
BIG EAST Standings
Creighton      (4-0-0)  12 pts
Xavier             (3-0-1)  10 pts
Providence    (2-0-1)  7 pts
Georgetown  (2-1-1)  7 pts
Marquette      (1-1-1)  4 pts
Villanova        (1-2-1)  4 pts
St. John's      (1-3-0)  3 pts
DePaul          (1-3-0)  3 pts
Butler             (1-3-0)  3 pts
Seton Hall     (0-3-1)  1 pts
I'll let you know how things go against Seton Hall, and, in the meantime, Go Hoyas!