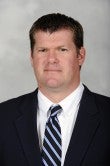 I hope everyone is well and wanted to share a few updates within Georgetown Lacrosse. I also wanted to thank Trevor Casey for his time and effort in ramping up the alumni involvement in our program.  Please consider joining the Hoya Hundred Club and participate in the upcoming Letterwinners Challenge!  Your participation will allow us to take the program to a new level, ensuring that "Hoyas take care of Hoyas."
Our coaching staff has been very pleased with the team's attitude and effort in practice. We're far from a finished product at this point but we have consistently improved each week.  The environment in practice has been awesome – there is a lot of "chirping" between the guys in blue and the guys in gray!  We will need that competitive spirit to unite us when we play against our opponents.
A few weeks back, we held our first DC alumni gathering at the men's basketball game vs. Xavier. I would like to thank the twenty or so guys for attending and spending some time with myself and your fellow Hoyas.  Although the outcome on the court wasn't in our favor, it was a fantastic night to talk all things Hoya Lacrosse!  We will look to have more events like that in the future.  It was really neat to see guys from different eras share stories about their time on the Hilltop!
A big congratulations as well to former Hoya player and coach Matt Rienzo. Matt will be inducted into the Potomac Chapter of the U.S. Lacrosse Hall of Fame on Saturday, February 7th.
Have a great week and Go Hoyas!