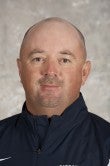 Unless you have been hiding under a rock, you will probably have heard by now that we had a successful visit to Morgantown, WV this past weekend for our NCAA First Round match. Facing off against national power #7 West Virginia University, we headed west knowing we would have to battle hard to get a result against the two-time Big 12 Champions.
In September, we had tied 1-1 against the Mountaineers on their home pitch. We definitely had to dodge a few bullets in that game and were happy to leave with a draw. This, however, gave the girls great confidence for this rematch and we were excited to make our third consecutive appearance in the NCAA's.
The game did indeed turn out to be a tight affair. It went in ebbs and flows and while both teams had chances, we had the best chance of the game in regulation and were disappointed as we headed into overtime. A stalemate resulted through OT and PKs were the outcome to decide the victor. Both teams had success in their conference semi's with PKs and I think both teams had confidence. A PK shootout victory is truly fantastic, while a defeat is an awful feeling. Thankfully this one worked out for us and we emerged as winner.
It was fitting that the decisive kick ended up with senior captain and All-American, Daphne Corboz, who nailed the winner! I can't tell you how emotional it was for the girls and I did feel a lot of sympathy for a great West Virginia team.
Now it is on to the second round of the NCAA's for the third year in a row. On Friday, we have another rematch against a great Virginia Tech team at Penn State University at 4:30 p.m. We lost a tough one against the Hokies earlier this year and I think we are a better team now and are better equipped for this one.
Fingers crossed we can move on to the third round, but I want to thank you again for all your support as we move towards the end of the year.