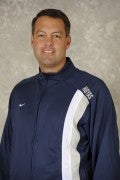 Home cooking is one thing, but getting cooked at home is quite another! Our home opener this past Friday saw the temperature and humidity make it feel over 100 degrees on the field. It didn't deter a great Hoya Hooligans student group and capacity crowd of close to 2,000 come out to cheer the boys on. Harvard made things tough on us by trying to compress back deep in their half to try and frustrate the attacking pair of junior Brandon Allen and sophomore Alex Muyl. The strategy worked by and large, except for the fact that senior midfielder Tyler Rudy punished them instead with a great strike from 20 yards out early in the first half to make it 1-0. The heat slowed things down a bit for us, and missed chances started to rule the day. It took until the 86th minute and our 21st shot at goal before freshman midfielder Arun Basuljevic would put the game out of reach.
The Sunday game against Big Ten member Wisconsin was a totally different affair. The day was cool and crisp, and so was our team. The first 60 minutes was as complete a performance as I could hope for with sharp passing, relentless defending and precise finishing. Allen and Muyl took their frustrations from Friday out on the Badgers, with Allen scoring early and providing assists on two others, and Muyl scoring twice himself. Junior Melvin Snoh opened his account with a goal on his first touch of the game, while also providing an assist on Muyl's first goal.
The trick will be trying to maintain that sharpness on Thursday against a very dangerous VCU team. We'll have to deal with another warm day after a full slate of classes – never an easy task for a Georgetown student-athlete!
I'll let you know how things go against VCU, and in the meantime, Go Hoyas!