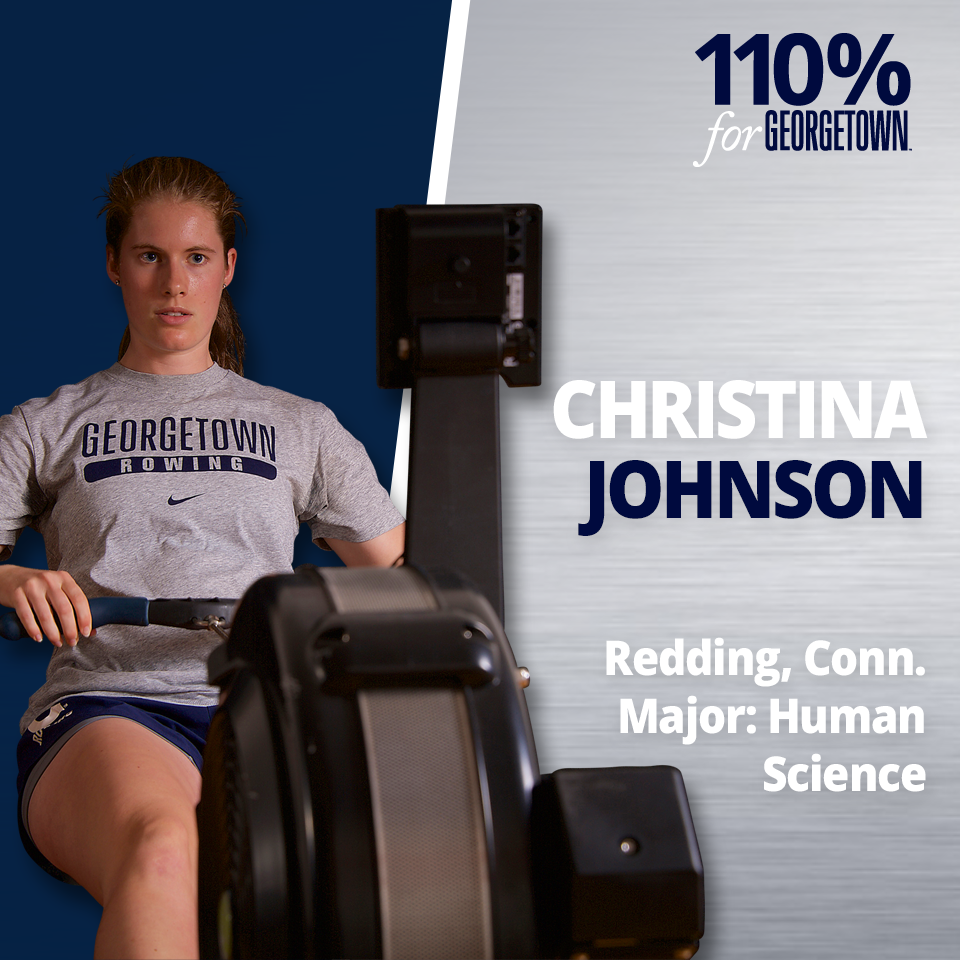 A member of the Georgetown women's rowing team, junior Christina Johnson and her teammates will be traveling to Boston, Massachusetts this weekend to compete in the 51st Head of the Charles Regatta. Off the water, Christina has a passion for volunteering with the Grassroot Project. Let's go In the Huddle with Christina!
Why did you choose to attend Georgetown?
When I first visited, I fell in love with the people, the team, and the coaches here at Georgetown. Everyone on this campus really exemplifies and lives out Georgetown's motto of cura personalis – care for the whole person – and I was so excited to be a part of that.
What is your favorite team experience?
I love everything about traveling with the team and racing (yes, the handful of 8-minute races in the spring really do make all the hard work and year-round training worth it). If I had to choose my single favorite team experience, though, I'd say it's having the opportunity to wake up every morning and spend time at practice competing with some of the coolest people I've met at Georgetown.
What are your career aspirations?
Over the past year, I've gotten involved in work with The Grassroot Project, an awesome non-profit here in DC, and have taken some classes that have gotten me excited about public health. I'm still trying to figure out where I'll be headed after Georgetown – and the NHS gives me an awesome opportunity to explore all areas of the healthcare field – but right now I'm really excited about public health.
What volunteer work do you do?
Many of the athletes here at Georgetown volunteer for The Grassroot Project – an organization that sends student-athletes from universities in the DC area to public and public charter schools to teach seventh grade students about HIV/AIDS through the use of games and interactive activities. I love that we have the opportunity, by playing games, to teach the students and interact with them in a way that they can actually enjoy.
What is your favorite Georgetown experience?
I love adventuring out into the city – walking by the monuments at night or early in the morning, visiting museums, going to film festivals, and most importantly: trying out the amazing restaurants throughout DC.
How do you give 110% for Georgetown?
I train hard and push myself every day in the summer so that I'm ready to get after practices and competitions from day one in the fall. I study hard so that I can get the most out of my education at this amazing school – this place can teach us so much if we're willing to put in the time and effort.
What would you like to say to donors to Georgetown Athletics and how they have impacted you?
I didn't think I was going to come to Georgetown when I came on my official visit the fall of my senior year. When I got to spend time with the team, and got to attend some classes and explore the campus, I realized that this was the perfect place for me. Since then, the feeling that there's no place I'd rather be has only gotten stronger. Our coaches are amazing and some of the best coaches I've ever had. The rowing team has made in immeasurable impact on my time here, and it means more to me than I can put into words. I've made lifelong friends on this team, and have learned so much about myself and about life throughout my time here. Basically, I just can't say enough good things about this place, the people, and the team, and I think many of my teammates feel the same way.
Hoya Facts with Christina Johnson
My teammate I admire most is: Sarah Arcos – one of our captains last year, because she didn't talk about wanting to go fast, she just worked hard every day and was always improving every practice.
If I could be any Georgetown alum, I would be: Bill Clinton because the Clinton Foundation does some awesome work
My favorite TV show: Friends
My favorite thing about Head Coach Steve Full is: He understands us and knows how to push us. He helps us become better and faster than we think we can be.
My favorite holiday is: Christmas because it's the most wonderful time of the year! (And I love filling my house with freshly-baked cookies.)
Something about me that would surprise my teammates is: New York pizza is one of the things I miss most about home
My favorite class at Georgetown is: The Problem of Suffering – a theology class in the NHS that puts religion and spirituality in conversation with human health, disease, and suffering
My favorite event to compete in is: Head of the Charles because it's a huge event with competitors from all over the world on a beautiful and challenging course
My favorite sport other than rowing is: Baseball