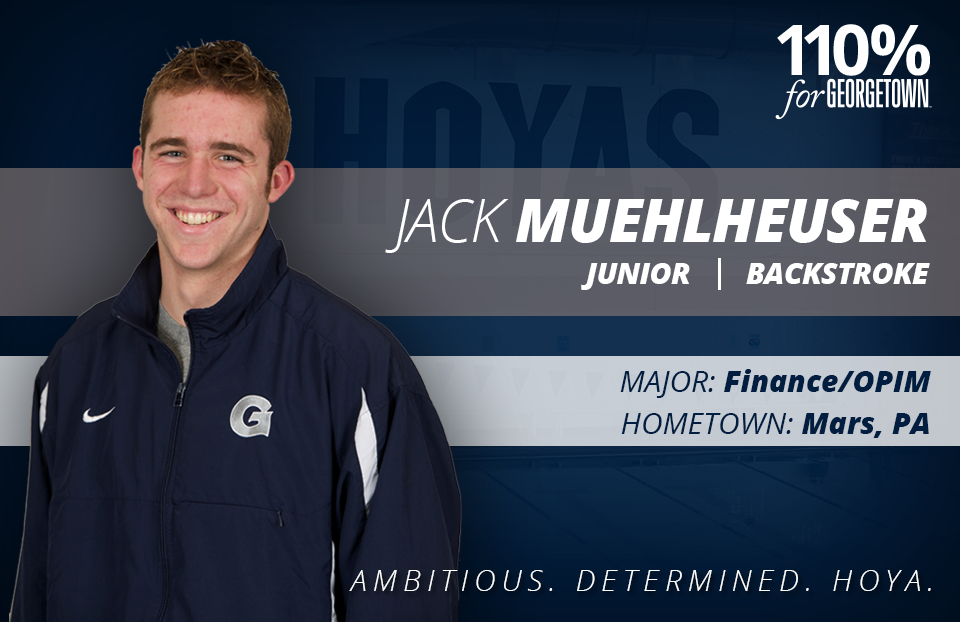 Jack Muehlheuser enters his junior season as one of the leaders on the team in the backstroke. A native of Pennsylvania, Jack earned All-BIG EAST honors in 2013-14 as the Hoyas finished second at the BIG EAST Championships.
Let's go In the Huddle with Jack!
What made you decide to attend Georgetown?
The people who met me on my GAAP weekend made my decision to come to Georgetown clear. The student body and faculty alike here truly want you to become your best self.
What is your most memorable moment in your career at Georgetown?
BIG EAST Championships at the end of the season make all the training and hard work worth it. The energy is infectious and there is nothing better than pushing yourself and your teammates to their highest potential on the biggest stage.
What is a routine you have for your competitions?
One of the most memorable traditions we have as a team is when we return from away meets, we sing the fight song on the bus as we cross back over the Key Bridge.
What does "Together, We Are Georgetown" mean to you?
As individuals, we come together as a group at Georgetown and represent the name as a team.
How do you give 110% for Georgetown?
I dedicate all I have to my sport that I compete in but I also do the same to my coursework which comes first. I apply this attitude to all I do so that I may be the best I can be.
What would you like to say to donors of The Annual Fund for Georgetown Athletics?
Your donations help us out greatly so that we can become a better team and become more marketable for more prospective athletes.
Hoya Facts with Jack Muehlheuser
My favorite class at Georgetown has been: Sociology of Hip-Hop
If I could vacation anywhere in the world, I would go to: New Zealand
My favorite tourist activity in DC is to: Walk to the White House
My favorite thing about Coach Jamie Holder is: His ability to push me
My teammates would be surprised to know that: I have a great singing voice
My best sport other than swimming is: Golf
My favorite places to eat in Georgetown are: il Canale & Filomena
The team I look forward to competing against most is: George Washington
My teammate who makes me laugh the most is: Mike Spinelli