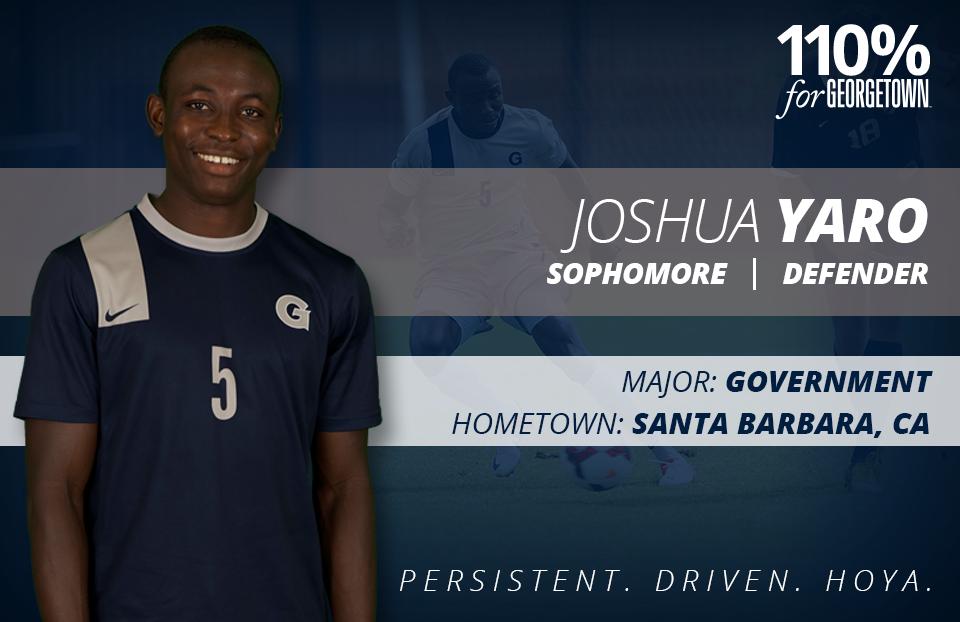 Sophomore Joshua Yaro was named the 2014 BIG EAST Defensive Player of the Year and was a unanimous selection to the First Team All-BIG EAST squad. Yaro was a key part of Georgetown's 10 shutouts this season, including a league-best six in the nine conference games played. He also got into the action on offense with an assist coming Princeton. Yaro earned BIG EAST Defensive Player of the Week honors on three occasions this season and was a member of the Preseason All-BIG EAST squad.
What made you choose to come to Georgetown?
I came to Georgetown because it has exactly what I am looking for as a student-athlete. I wanted to go to a school that would challenge me academically and be part of a team that would develop me into a better soccer player. To me, Georgetown had the best of both worlds and I couldn't imagine myself going to any other place and having as much fun as I am now. And of course, the coaching staff made my decision easier because I knew I could work with them and develop, not just as a soccer player, but into a responsible young man.
What is your most memorable moment in your playing career at Georgetown?
My most memorable moment in my playing career at Georgetown was last season when we played Stanford in California. We lost our first game against Berekeley and instead of putting our heads down and feeling sorry for ourselves, we walked onto the field with pride and determination to beat a good Stanford team, and we did! For me, that was a defining moment for our season because it changed everything for us and helped us become a better team.
What is your favorite interaction with a Georgetown fan away from Washington, DC?
My favorite moment was when I was back in Santa Barbara, CA for break and ran into a Georgetown University professor who came up to me and started a conversation. He told me how much he loves soccer and that was a pretty cool experience.
What would you like to say to a donor to The Annual Fund for Georgetown Athletics?
Without your generosity, athletics at this university would not function and we thank you and appreciate the time, effort and money you have invested in our programs.
How do you give 110% for Georgetown?
I try whenever I can to motivate and encourage my teammates when they are down. I also take the time to teach other Georgetown students about the rules of soccer, which most students don't know.
Hoya Facts with Joshua Yaro:
My teammates would be surprised to know that I: Have a photographic memory
The player on my team who makes me laugh most is: Cole Seiler
My favorite places to eat in Georgetown are: The Tombs and Sequoia
If I could vacation anywhere in the world, I would go to: Rome
My best sport other than soccer is: Track & Field
My favorite thing about Coach Wiese is: He's always passionate
My favorite class at Georgetown has been: International Relations
The best thing about being a Hoya Soccer student-athlete is: Seeing my fellow students cheering for me on the field