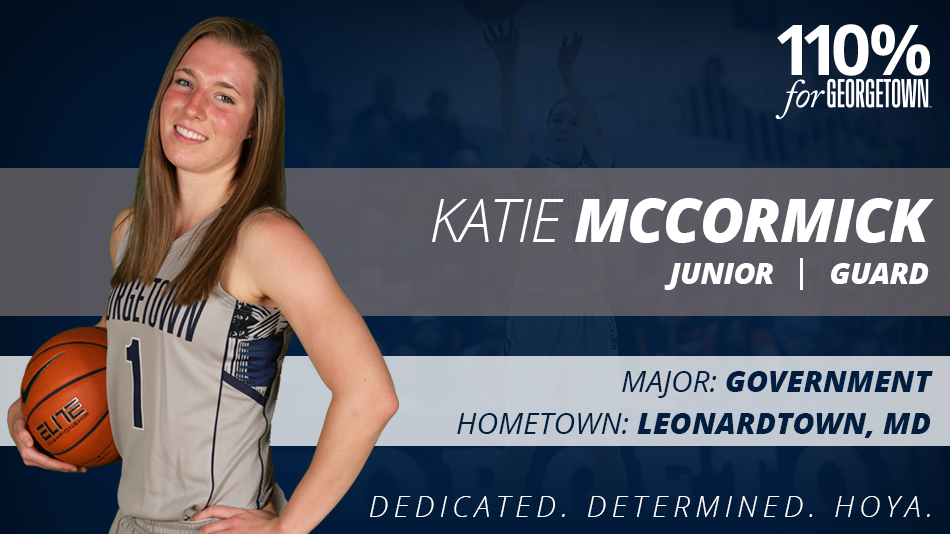 Junior guard Katie McCormick has started all 17 games in the 2014-15 season, averaging over 9 points per game. A government major in the College, Katie has governed the three point line for the Hoyas, leading the team with 33 made three-pointers on the season. Katie is also averaging 3.1 rebounds per game, is a 77% free throw shooter and has 17 steals on the season.
What is your most memorable moment in your playing career?
My most memorable moment while playing at Georgetown is my first game back after tearing my ACL the first time. This really had an impact on me because I had never played college basketball before and I can remember feeling all the excitement and energy from just being back on the court and playing again. Seeing my Mom's and Dad's faces were also pretty memorable because I knew they were proud of everything I had fought through to recover and play this game again.
What is a game day routine or tradition you have for home or away games?
When we have a home game I usually go to shoot around, team meal, and then go back to my house and shower and get my mind right. After, I lay down for 20-30 minutes and go through the things I need to do in order to help my team win, and lastly I go through my shooting routine a few hours before the game for about 45 minutes.
What made you choose to come to Georgetown?
My decision was a mix of everything. Academics played a huge role, but basketball played the biggest role in my decision to come to Georgetown.
How do you give 110% for Georgetown?
I give 110% whenever I step on the court, and also make sure to do extra skill work when we are not practicing. My team and I also have participated in many community service activities this year. We helped the less fortunate during Thanksgiving, we spent time in the Georgetown Hospital with cancer patients, and have visited elementary school kids in order to give them words of encouragement to stay in school and reach their dreams.
What would you like to say to donors of The Annual Fund for Georgetown Athletics?
Thank you so much for everything you do! It does not go unappreciated or unnoticed! You guys are the best and I hope to see you at some games!
Hoya Facts with Katie McCormick
If I could vacation anywhere in the world, I would go to: Greece
My favorite class at Georgetown is: US Political Systems
My best sport other than basketball is: Soccer
The most interesting person I have met at Georgetown is: John Thompson, Jr.
My favorite thing about Coach Adair is: Her passion and resiliance
My favorite tourist activity to do in DC is: Visit museums
The player on my team who makes me laugh the most is: Faith Woodard