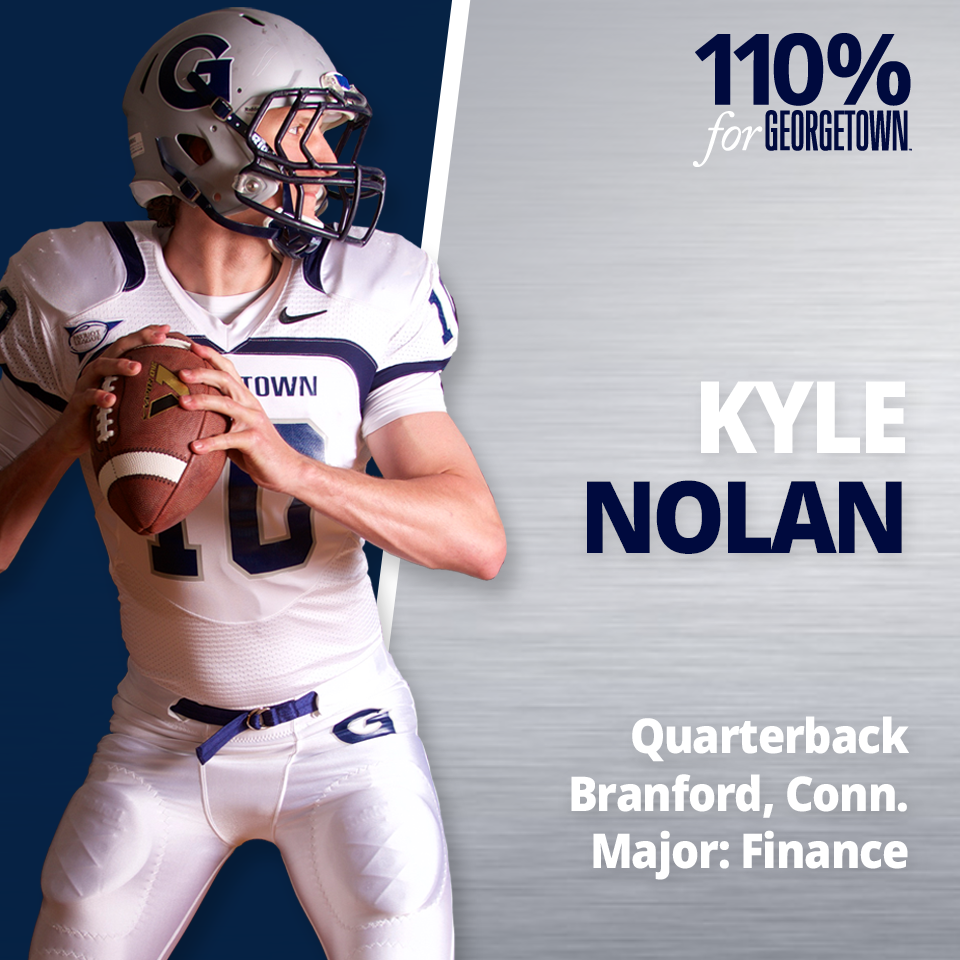 In his senior season, Kyle Nolan has led the Hoyas' offense with veteran savvy, averaging 196 yards of offense through the air with five touchdowns on the season. After his performance in Georgetown's 34-7 win over Marist, Kyle was named Corvias Patriot League Football Offensive Player of the Week after completing 21-34 passes for 200 yards and two touchdowns. Kyle has also earned four Patriot League Weekly Honorable Mentions in his career. Let's go In the Huddle with Kyle!
Why did you choose Georgetown?
I chose Georgetown for its impressive business school and the fact that it is in D.C. While choosing my school, I was constantly reminded by a mentor of mine to choose it for everything outside of athletics. Although athletics was a big part, I wanted to choose a school that would satisfy me if athletics was not a part of my life. I found that fit at Georgetown…from football, the classroom, and the surrounding area, Georgetown was the right school for me.
What are your career aspirations?
During my junior year, I joined a startup that one of my roommates' brothers began. It is a bottled super coffee called Sunniva Caffe. Throughout the summer going into my senior year, we participated in Georgetown's Startup Hoyas program. We plan to grow our company throughout our final year at Georgetown and continue after graduation.
How do you give 110% for Georgetown?
I put in more work for my sport than just is required on the field, through film study to watching what I eat. The entire football team also participates with the Friends of Jaclyn organization, where we have adopted two kids with pediatric brain cancer.
What would you like to say to donors to Georgetown Athletics and how have they impacted you?
We couldn't participate in athletics without the donors' assistance. They help us get to our games and help provide the equipment we need. We are very grateful for having the up-to-date equipment in order to perform and look our best on the field.
Hoya Facts with Kyle Nolan
My favorite TV show is: Suits
The place most likely to find myself on campus is: McDonough Arena
My favorite holiday is: Thanksgiving because it is a gathering of the people that matter most to me
Something about me that people don't know: Once upon a time, people couldn't get me to stop talking
My favorite thing about Coach Sgarlata is: His care for his players
My favorite class at Georgetown: Business Law
If I could be any Georgetown alum, I would be: Bradley Cooper
My favorite away game experience is: When we played at Fordham my junior year, we did our pre game walkthrough the day before at MetLife Stadium
My favorite sport other than football: Basketball
My teammate who makes me laugh most is: Jake DeCicco