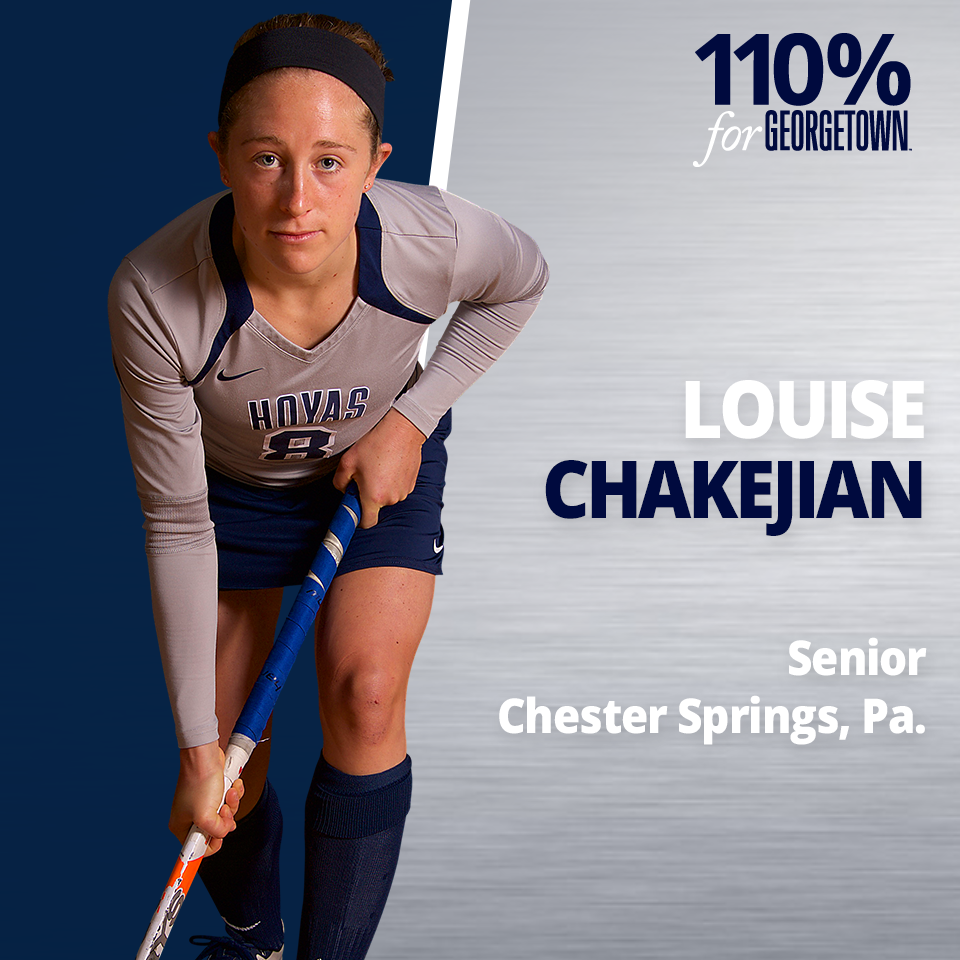 A senior on the Hoya field hockey team, Louise has served as a team captain for two years. In the 2015 season, Louise currently has tallied three points with one goal and one assist. The Hoyas have eight wins on the season and have won their last three, including a thrilling win against BIG EAST rival Villanova at Cooper Field. Let's go In the Huddle with Louise!
What is your favorite team experience?
One of my favorite team experiences is walking out onto Cooper Field before a game (formerly MSF) for the first time. The first two years of my career, our team played our "home" games at another venue, but we now get to play our home games at our true home. There is nothing better than feeling connected to your home field, and being able to play amongst so much energy on campus.
What advice would you give a student considering Georgetown?
Choosing to be a Hoya is one of the best decisions I have ever made in my life. Being a Hoya is so much more than being an athlete at Georgetown. You will have a huge support system that works to help you develop into a young professional leader, on the field, in the classroom, and beyond. Your mentors here will have genuine faith and belief in you and will push you past mental and physical barriers to help you realize your full potential. I know that I am who I am today because of their influence.
How do you give 110% for Georgetown?
As Hoyas, my teammates and I give 110% everyday through our gratitude. As a pillar of our program, we strive to express thanks and appreciation to every single person who helps us in anyway. Additionally, we strive to live by our team mission statement both on and off the field.
What are your team goals?
My team goals for this year are to pass on the culture that we have worked so hard to create over the past four years. It is very important to me that our team continues to live up to the values and pillars of our program that make us unique.
What is your favorite Georgetown experience?
All of my best memories involve spending time with my teammates. My favorite experience is preseason. Everyone thinks that I am crazy, but I always say that preseason is my favorite time of year because you eat, sleep and breathe the team and the sport we love. I love that I wake up with my team in the morning and we challenge each other for two weeks to prepare ourselves for the season. I also love preseason because that is when we spend time defining our team values, mission statement and goals for the season that shape our culture.
What would you like to say to donors to Georgetown Athletics and how they have impacted you?
Words cannot express my gratitude for your never-ending support of Georgetown Athletics. Because of your generosity, I have had the opportunity to grow as a student-athlete and a leader. Further, your generosity has allowed my teammates and I to establish a foundation for our program that will continue to build for years to come.
Hoya Facts
If I could be any Georgetown alum, I would be: Susan O'Malley
My favorite movie is: Friday Night Lights
My favorite thing about Coach Soares is: There is not enough space for this, but one of my favorite things about Shannon is her contagious energy and genuine desire to develop her players into professional young leaders.
Place most likely to find me on campus: Cooper Field
My favorite holiday is: Thanksgiving because of the food, family and fall weather
Something about me that would surprise my teammates: I am going to miss the 5 a.m. wake-ups
My favorite quote is: "Work like it all depends on you, every bit of it, and then at the end of the day drop to your knees and pray like it all depends on God."
My favorite class at Georgetown is: Leadership with Prof. Michael O'Leary
My favorite sport other than field hockey: Running
My favorite place to eat in Georgetown is: Jetties
Teammate I admire most: I admire my teammate Chloe the most. She exemplifies a "team first" mentality and comes to practice and games with the intent to make each of her teammates better.