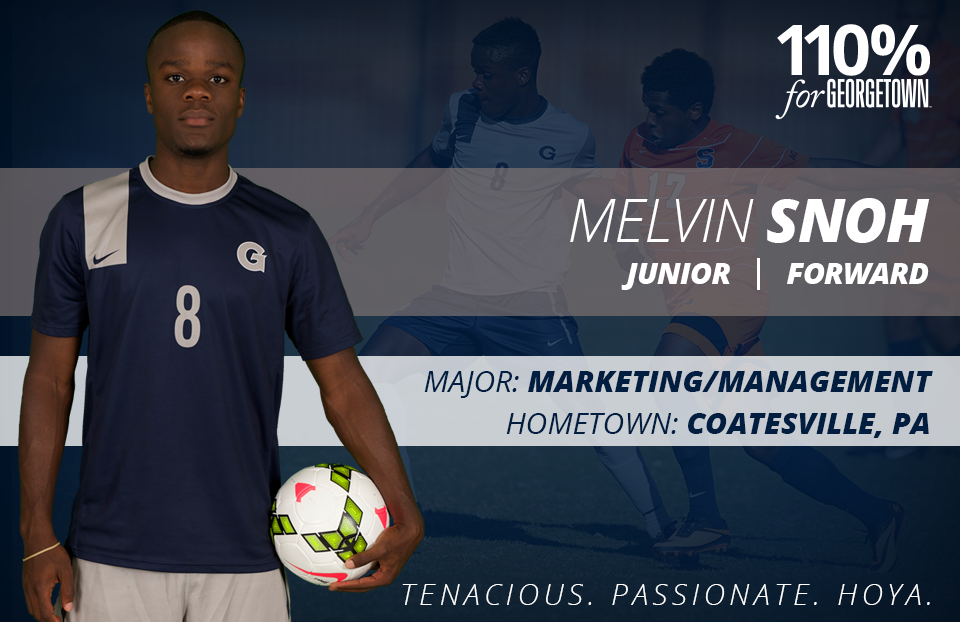 Originally from Monrovia, Liberia, junior Melvin Snoh has been a reliable presence on the men's soccer team. In his first two seasons on the Hilltop, Snoh played in 37 games with 10 starts. So far this season, Snoh has appeared in all 8 games, with 6 shots, 1 assist and a game winning goal. 
What is your most memorable moment in your playing career at Georgetown?
"Scoring the game winning goal against San Diego in the Elite 8 and also playing in the College Cup."
Who is your all-time favorite Hoya student-athlete and why?
"Allen Iverson. I loved how he always gave 100 percent every time he was on the court."
What is your favorite interaction with a Georgetown fan away from Washington, DC?
"While on a train in Philadelphia, a Georgetown alum approached me and told me that before our College Cup game against Maryland, he wasn't much a soccer fan. But after watching our game, he enjoyed it so much that he became a huge Georgetown men's soccer follower."
What does "Together, We Are Georgetown" mean to you? 
"It means that we are close knit community. No matter what the circumstances are, we are always going to stick together, encourage and push another and strive to be the best that we can be."
What would you like to say to a donor to The Annual Fund for Georgetown Athletics?
"Thanks for the donations. It allows us to have great facilities and coaches that put us in the best position to represent Georgetown to the best of our abilities."
How do you give 110% for Georgetown?
"I give 110% on the field by taking extra time after practice to work on improving my strengths and weaknesses. I also give 110% in the classroom by spending extra time outside of the classroom on my studies."
Hoya Facts with Melvin Snoh:
The favorite thing about my coach is: His calmness
My favorite class at Georgetown has been: International Relations
My hardest class at Georgetown has been: Accounting
My greatest strength as a soccer player is: Composure
My best sport other than soccer is: Basketball
The most interesting person I have met at Georgetown is: Princess of Bhutan
My teammates would be surprised to know that: Listen to country music