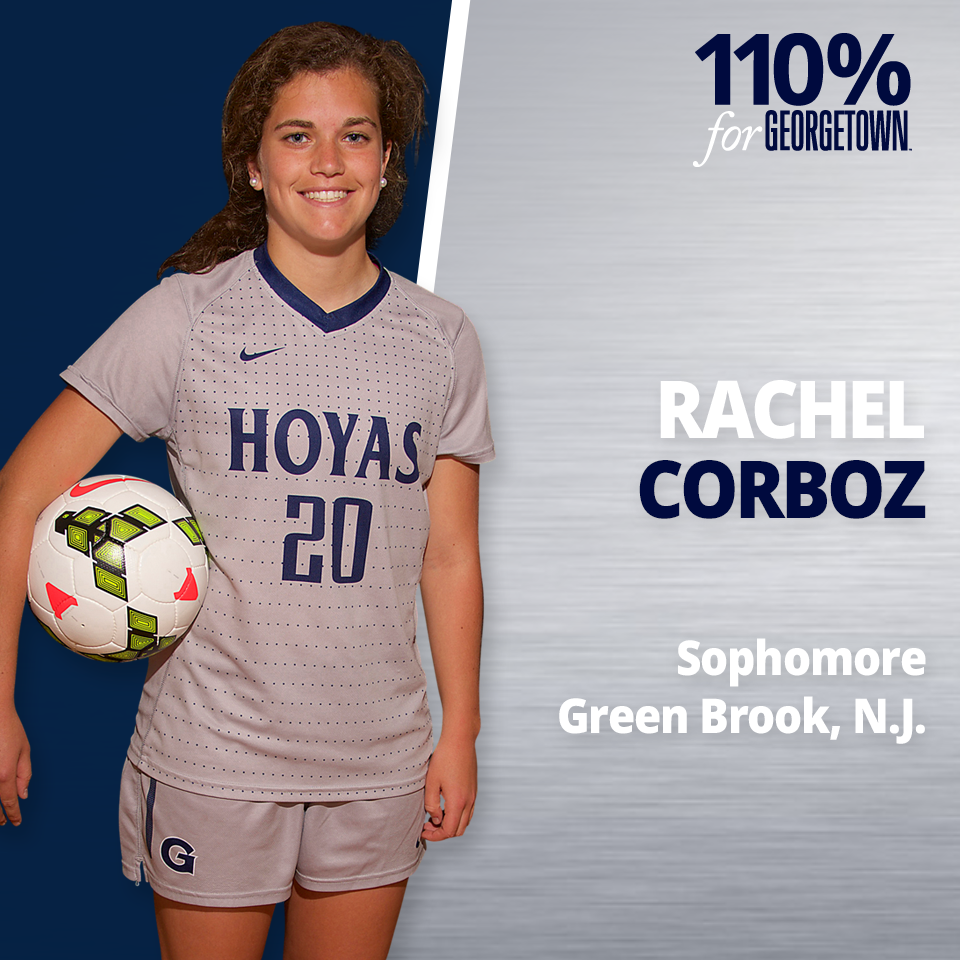 Georgetown sophomore women's soccer player Rachel Corboz was named the BIG EAST Conference Midfielder of the Year on Tuesday, November 3 as the league announced postseason awards. Rachel leads Georgetown in scoring with 28 points. She has scored a team-best 10 goals and added a team-high eight assists. She is third in the BIG EAST in points scored, tied for third in goals and tied for second in assists. The Hoyas finished the regular season with an 11-5-2 overall record and a 6-1-2 mark in the BIG EAST, earning the No. 2 seed in this week's postseason tournament. The Blue & Gray will play in the BIG EAST Semifinals on Friday, Nov. 6 in Omaha, Nebraska. Let's go In the Huddle with Rachel!
Why did you choose to attend Georgetown?
I chose Georgetown because it is a good balance between top notch academics and a great soccer team, which is very rare to find.
What is your favorite team experience?
My greatest team experience would have to be beating West Virginia in the first round of NCAA's last year. At the end of 90 minutes, we were tied 1-1 with them and had to go to penalty kicks which we ended up winning. Celebrating with everyone after we scored the winning penalty kick was so exciting and truly something I will never forget.
How do you give 110% for Georgetown?
Giving 110% for me is working hard and giving your best at everything you do, whether that be in the classroom or on the soccer field.
What would you like to say to Georgetown Athletics donors?
I would just like to say thank you so much for everything that you have done to help Georgetown Athletics and student-athletes like me. It really means a lot to everyone here.
Hoya Facts
If I could be any Georgetown alum, I would be: Bill Clinton
My favorite TV show is: Grey's Anatomy
Something about me that would surprise my teammates: My favorite food is my mom's veggie lasagna
My favorite holiday is: Christmas
My favorite thing about Coach Nolan is: His sarcasm
My favorite quote is: "Happiness is only real when shared" -Christopher McCandless
My favorite class at Georgetown is: Biology
My favorite experience away from Georgetown has been: When we went to Spain as a team for Spring Break my freshman year
My favorite sport other than soccer is: Skiing
My favorite restaurant in DC is: Maté