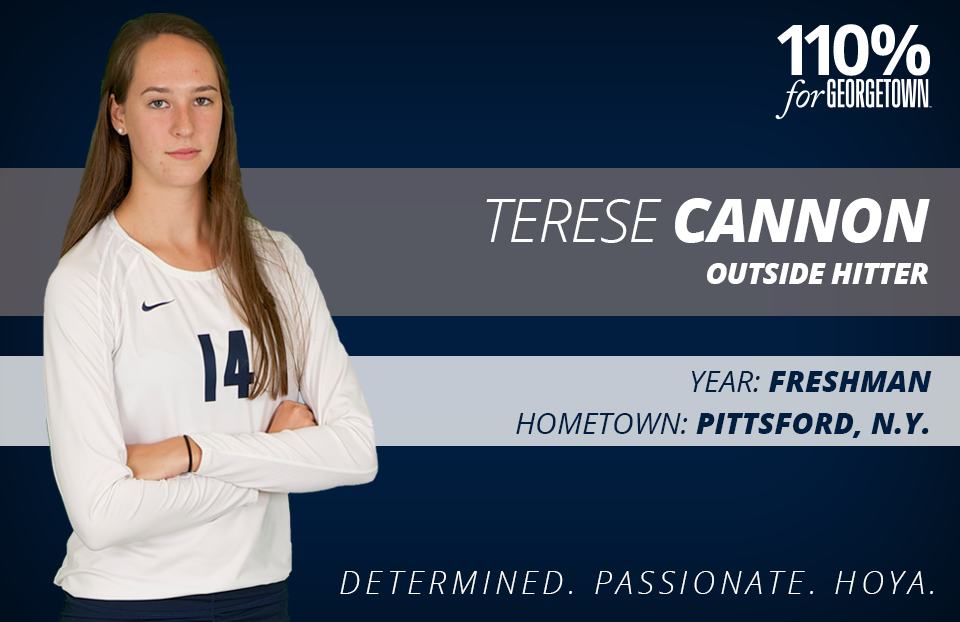 Only a freshman, Terese Cannon has already made her mark on the 2014 Georgetown Volleyball team. Cannon is currently leading the team in kills with 156, averaging 2.89 per set. She also is second on the team in points, with 73.5 and has 27 assisted blocks on the year. Cannon comes to Georgetown as a two-time nominee for the New York Gatorade Player of the Year, and was named a National High School Junior of the Year finalist as well as to the All-American First Team in 2012.
What is your most memorable moment in your playing career at Georgetown?
In my short career here, my most memorable moment so far has been playing at American at the DC Challenge tournament. Even though we lost the match, we fought hard. It was the first college game I was a part of and there was a lot of energy in the gym which was awesome. After plain gin that match, I became very excited for the rest of the season and my years here at Georgetown.
What is a game day routine or tradition you have for games?
Before every game, right before we are about to take the court, we huddle together as a team and do a cheer that we came up with together. It's personal and means something to each of us, which I love because it gets us really excited to play!
What made you choose to come to Georgetown?
I chose to come to Georgetown because of the atmosphere here. Once you step on campus, you can just tell that this is a great place where everyone will support you and help you reach your goals. The things that I am learning here and the friendships that I am making only confirm that feeling. I am proud to be a Hoya.
What would you like to say to a donor to The Annual Fund for Georgetown Athletics?
Thank you so much for everything you do. Without you, I wouldn't be here and I can't thank you enough for making this opportunity available. It means the world to athletes like me that you donate to help make our dreams come trust each and every day.
How do you give 110% for Georgetown?
I give 110% by staying after practice to get extra reps, or by studying video of myself playing to see what I need to improve on. I also make sure to have all of my school work completed and turned in on time to the best of my ability. I volunteer when I can because I think that it is important to give back to those in the community.
Hoya Facts with Terese Cannon: 
My favorite thing about Coach Williams is: She believes in us
My favorite class at Georgetown has been: Micro Economics
My favorite tourist activity to do in Washington, DC is: Touring the monuments
My greatest strengths as a volleyball player is: The determination I have to get better
My best sport other than volleyball is: Basketball
My favorite places to eat in Georgetown are: Good Stuff Eatery and Georgetown Cupcakes
My most cherished possession is: My high school class ring
My favorite road trip activity is: Watching movies on the bus
The player on my team who makes me laugh most is: Alex Johnson
My teammates would be surprised to know that I: Listen to country music