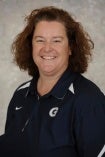 I can't believe it is November already!  Time sure does fly when you are having fun.  To date, our fall semester has been very successful.  We played six games over the course of two weekends at George Washington, Maryland and UMBC.  We went 3-3 and had an opportunity to see our interchangeable parts.  I was excited with the performance of our returners and our three freshmen showed that they are ready to make an impact this year.
Our 9th Annual On Deck Circle Awards Banquet was held September 28 at Maggiano's.  The banquet has become a signature event for our program's players and parents.  We honored the 2014 team, the individual award winners and introduced the freshmen class and their families.  Megan Hyson, after a record breaking junior season, was named our Most Valuable Player.  Grace Appelbe was named our Most Improved Player after earning the starting shortstop spot her sophomore year.  We highlighted our other achievers on the field and in the classroom, watched an incredible highlight video of our year put together by Coach E and dined on a fantastic meal.
In October, I had the distinct honor of receiving the Outstanding Coaching Achievement Award at the Athletic Recognition Event.  How happy was I to see my current team present as well as a number of former players who came to celebrate my recognition.  As a coach, I want to win games, but just as important is the impact I am able to make on my student-athletes.  From the faces in the room, I can say that I am doing just that.  A special thanks to those who shared the evening with me!
As we are in the last month of our fall training, I look forward to seeing continued development.  Our dreaded 4th Annual "Hell Week" is taking place this week before Thanksgiving.  It's an opportunity to showcase the toughness, mentally and physically, of our team through a weeklong series of activities.  Former players can still feel the impact of Hell Week long after they have graduated.
The team has been working tremendously hard in the weight room, conditioning and in individual skill sessions.  They have a singular mindset and are focused on putting themselves in a position to win a championship.
Have a wonderful holiday season.  2015 is right around the corner and that means opening day is as well! We look forward to seeing all of you at the "Gee" this spring to cheer on your Hoyas.