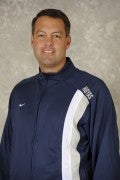 The winter season is officially underway with the boys back on campus and back to work. There was plenty of activity with our program over the break, with news and notes aplenty! Contrary to my usual inability to be succinct, I'll get right to it!
• EPIC SPRING SCHEDULE: In an effort to test the returning team to prepare for a daunting fall schedule, we have tried to put together a daunting spring schedule. We start with MLS champion LA Galaxy here on Tuesday morning. It's much earlier than we would normally like to play in the semester, but they are coming to DC to visit the White House and the opportunity to play them was too good to pass up. We'll try to steal back current Galaxy member and Hoya alum Dan Gargan (B'05) for the game! Also on the docket will be the Philadelphia Union, the Richmond Kickers of the USL, Duke and UNC. The view the complete schedule, please click here.
• MLS BOUND: Two of our five seniors are currently in preseason camp after getting picked up by MLS squads. Goalkeeper Tomas Gomez was drafted by the Columbus Crew, and midfielder Tyler Rudy was added by the New England Revolution as a discovery player. Both Gomez and Rudy graduated from Georgetown in December, and we now have had eight players drafted into MLS squads in the last three years.
• BEST OF THE BEST: We had two major award winners from the 2014 season. Sophomore defender Joshua Yaro was named the National Player of the Year by TopDrawerSoccer, and freshman midfielder Arun Basuljevic was named the National Freshman of the Year by Soccer America. Basuljevic's honor was the second in three years from Soccer America as junior Brandon Allen was their National Freshman of the Year in 2012.
• IN WITH THE NEW: With our five seniors departing the Hilltop, we look forward to the National Letter of Intent signing on Wednesday. Currently our incoming recruiting class is ranked #4 in the country by TopDrawerSoccer, which marks the third year in a row we have welcomed a top five ranked recruiting class.
• ONCE MORE INTO THE BREACH: One of our biggest news stories of the off season, isn't who has left, but who didn't leave. Sophomore Joshua Yaro turned down being the top pick in the MLS Superdraft in order to return to Georgetown. Our local Fox News tells his story well – watch it by clicking here.
I'll let you know how things go against the Galaxy, along with the National Letter of Intent signings this week. In the meantime, Go Hoyas!