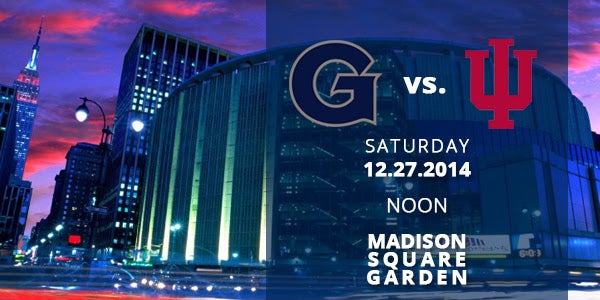 SPECIAL PRE-SALE FOR HOYA FANS
Tickets are now available for the men's basketball game vs. Indiana on Saturday, December 27 at noon at Madison Square Garden!
Ticket Prices
As part of this special pre-sale, Hoya fans have access to incredible seat locations! Plus, tickets start at only $28! To view a map of Madison Square Garden with prices and available sections, please visit here.
Seat Assignments
All Hoya fans may purchase tickets, but exact seat locations will be assigned based on current-year athletics giving level (gifts made on or after July 1, 2014). Seat locations will be assigned in November. To make a gift to Georgetown Athletics in order to increase your seating priority, please visit http://WeAreGeorgetown.com/giving.
Courtside and Floor Seats
After purchasing, select donors will be contacted by the ticket office and given the option to upgrade to courtside or floor seats (sections 4-6, 10-12). Upgrades will be prioritized based on current-year athletics giving level. For a list of athletics giving levels, please visit here.
Shipping and Other Information
Tickets will be shipped via FedEx in December.
For more information on tickets to this event, please visit here.
Thank you for your continued support of the Hoyas! We look forward to GRAYING OUT Madison Square Garden!
Georgetown Athletic Ticket Office
hoyatickets@georgetown.edu
202.687.HOYA (4692)
*Ticket prices include a $3 per ticket Ticketmaster fee and a $5 per ticket facility surcharge. In addition to the ticket price, a $15.00 charge for FedEx shipping will be added to each order. Those who order fewer than 10 tickets will have their seats assigned together in one row; those who order 10 or more tickets may have their seats split up into multiple rows. All tickets are subject to availability.