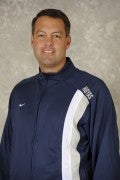 Wednesday's 1-0 overtime win against #9 Xavier marked the second consecutive 1-0 win over a top ten opponent, and it was not an easy result to get. It was a wet day, and Xavier was highly organized and happy to sit in, defend and try to counter. As a result, we had a large amount of possession, but scoring chances were limited. Several good serves from junior left back Josh Turnley led to dangerous moments, and one driven cross from junior right back Keegan Rosenberry screamed across the goal mouth just missing the outstretched foot of senior Jared Rist at the back post. While we were probing for the goal, the defensive efforts of the back line and senior goalkeeper Tomas Gomez, snuffed out any Xavier threats before they became real problems. Junior Cole Seiler and sophomore Joshua Yaro were particular dominant in the heart of our defense all game long. Their play would give us the opportunity to wait until five minutes into overtime to be rewarded with the game-winning goal. Another cross from Turnley led to a handball against a Xavier defender in the box. Junior Brandon Allen buried the penalty kick for his BIG EAST leading 10th goal of the year, and help clinch a spot in the BIG EAST tournament with the win.
I was proud of the team and how they responded in training over the last two weeks after dropping two consecutive league games. The entire squad pushed each other on a daily basis, stayed positive and came together to find two important results against two of the best teams in the BIG EAST.Tomorrow's game against long time rival St. John's represents the final regular season home game of the season. We will be honoring our five seniors Tomas Gomez, Austin Martz, Jared Rist, Tyler Rudy, and Tom Skelly before kickoff. They have been a special group, and a big part of four special teams in their time on the Hilltop.
The Week Behind: Xavier, 1-0 win (OT)
The Week Ahead: Saturday, November 1 vs. St. John's 1:00 p.m. (Shaw Field)
BIG EAST Standings
Providence    (5-0-2)  17 pts
Creighton      (5-1-1)  16 pts
Xavier             (4-1-2)  14 pts
Georgetown  (4-2-1)  13 pts
Villanova        (3-2-2)  11 pts
Marquette      (1-3-3)  6 pts
DePaul          (1-4-2)  5 pts
Butler             (1-4-2)  5 pts
Seton Hall     (1-4-2)  5 pts
St. John's      (1-5-1)  4 pts
I'll let you know how things go against St. John's, and, in the meantime, Happy Halloween and Go Hoyas!