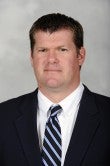 We have officially finished the first of three segments of the 2015 season. After our scrimmages at the Landon School, we feel like we are headed into the next segment of the season in a good state of mind, both mentally and physically. It is always great to see our guys in game-like situations after having 19 practices with them. Overall, the staff was pleased with how we performed throughout the day. As always there is room for improvement and those games exposed some really good teaching points too.
I want to backtrack and thank all of our alumni who made it out to our alumni game in late September. I really thought it was a great test for our guys. Coach Matt Rienzo had the older guys fired up from the beginning and Matt Winter was lights out in the cage. The 2015 team had a substantial lead after one quarter but with some fantastic adjustments from Coach Zo, the difference was only one goal in favor of the 2015 squad headed into the second half. After a brief halftime break, the younger guys used their depth, speed, and youthful conditioning to pull away from the older crew to grab the win. It was a great day. Thanks to Trevor Casey for putting it all together.
On October 12, we got on a bus and took a short 12 minute ride over to the Landon School for the Capital Lacrosse Classic to play Richmond and UMBC. The games were played in typical fall fashion with some good and not so good moments throughout both games. Each member of the team played an equivalent of at least three 20 minute running quarters, which was great.
As I said earlier, the staff was pleased with the effort throughout the day. The best thing that happened is that we saw some schemes from our opponents that we have not gone over yet, as we do not game plan in the fall. This forced our guys to use their lacrosse IQ to be able to handle the different situations that arose.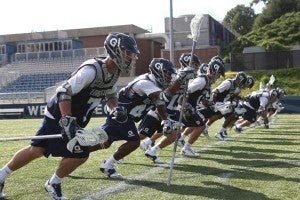 Photo Credit: Inside Lacrosse (@Inside_Lacrosse)
The team will begin a new intense phase in our strength and conditioning program, as well as an introduction of the 2015 team to the Exorcist stairs. We will begin the individual instruction part of our lacrosse developmental program. I believe this is the area that makes or breaks a lacrosse player. We will break up into position groups and meet for two one-hour sessions. We will re-teach our individual techniques and schemes through drill work over the next month and a half.
Over the next couple of months, we will make sure our upperclassman will start (or continue) with their job/internship searches. We will have them meet with representatives on campus through MSB, the Cawley Career Education Center, and will get their information out to you as well.
Our 2015 schedule will be released shortly as we are just trying to confirm a few game times. We have amped up the schedule to where you are used to seeing it, against the top teams in the country. We have three of the four teams from the Final Four a year ago on the docket and we would rather play those teams to better ourselves than some others. Stay on the lookout for it!