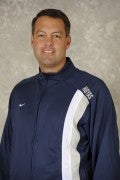 Sunday's game against the William & Mary Tribe wasn't one of our better performances, but the 1-0 win is valued just the same. I told the team last week that soccer wasn't a beauty contest, and they took it to heart by finding a way to win ugly. In fairness, William & Mary came in very organized and worked hard all game long. They did a good job in minimizing the impact of our attacking players, and made it hard for us to play through them. The hot day and the illness that has been running riot through our team took its toll on us, and it was the first day this year that we didn't have our legs under us. To compound matters, two of our seniors, Tom Skelly and Tyler Rudy, were only able to play limited minutes in the first half, unexpectedly thinning out our experienced midfield. We would get a vital contribution from junior David Witkoff, who filled in for Rudy's holding midfield role in the second half with aplomb. Even though things weren't clicking for us as we normally like them to, we were able to find the result off a wonderful strike from freshman Arun Basuljevic late in the first half. It was his second goal of the year, and first career game winner. The team managed to get a long awaited shutout to preserve an important out of conference win.
The William & Mary game highlights can be seen by clicking here.
Now things get even more exciting with the start of the BIG EAST slate. We head out to Indianapolis this weekend to play at Butler on Saturday evening. It is their Homecoming weekend, and they are expecting a capacity crowd to welcome us. We'll make good use of our first proper breather (with a full week between games), eat plenty of hot soup, and get back up to full throttle for the BIG EAST opener.
The Week Behind: at Princeton, 3-1 win; William & Mary, 1-0 win
The Week Ahead: Saturday, September 27 at Butler 5:30 p.m.
I'll let you know how things go against Butler, and in the meantime, Go Hoyas!