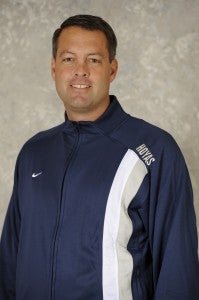 Georgetown Soccer Family,
I like to say that a good season means that you qualify for the NCAA tournament, and a great season means that the team is spending Thanksgiving together. By beating an excellent Old Dominion team, 3-0, in the second round last Sunday, the boys will get to do exactly that. The game against the Monarchs was played in some of the toughest conditions of the year, with freezing temperatures and 20-30 mph winds making life hard for both teams. Despite playing the first half into the stiff wind, we started very brightly, and our flank players would carry the day for us. Juniors Austin Martz and Tom Skelly got the start for us, and they were instrumental in the first goal. Martz did very well to beat his player before sending a dangerous ball across the box. Skelly received it on the far side before crossing it back in again to the head of sophomore Brandon Allen. Allen (who played well all day and registered two assists) headed it along to the back post, where fellow sophomore Cole Seiler was waiting to bury it from close range.
To Old Dominion's credit, they strained our defense for the last fifteen minutes of the first half as well as the beginning of the second. Some stellar saves from junior Tomas Gomez, and some stout defending by our back four kept them off the scoreboard to help record our program best 14th shutout of the season. The game settled down for us midway through the second half, and we were rewarded with a nice goal from freshman Bakie Goodman, who got on the end of a terrific cross from sophomore Josh Turnley. With the game already on ice and just three minutes remaining, freshman Alex Muyl put the cherry on top with a moment of individual brilliance to touch around a defender on the end line before slipping his shot past the goalkeeper. It's well worth a look at some of the highlights for the game: Georgetown v Old Dominion
Our Sweet 16 match up will take place on the Hilltop at Shaw Field this Sunday at 1 p.m. and hopefully under better conditions! We will take on Big 10 power Michigan State, who is the #11 overall seed and beat Louisville in overtime, 1-0 to advance. If you can't make it to the game in person, we will be offering a free webcast of the game which can be found here: Georgetown Live Video
The NCAA interactive bracket can be found by clicking here: 2013 NCAA Men's Soccer Bracket
Have a Happy Thanksgiving and I'll let you know how the Michigan State game goes on Sunday, and in the meantime, Go Hoyas!



Coach Wiese