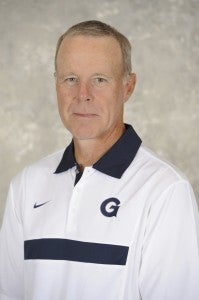 Dear family, friends and fans,
There is a quote that goes, "football doesn't build character, it reveals character." I am a firm believer in that idea, and that we have a lot of character guys on this team. We are all disappointed in our loss to Bucknell. We don't talk about moral victories. But we should be proud of how hard this team continues to play on Saturday and how hard they continue to practice during the week.
I told the guys on Sunday that defensively, we played as hard as we have played all year. On offense, the guys played extremely hard, we just didn't score enough points to win. Individually we have had guys stepping up. On defense Alec May is really coming into his own. Nick Alfieri and Jordan Richardson both had big games and Dustin Wharton showed how disruptive he can be to an opposing team's offense. On offense, Zack Wilke had another great day with nine catches.
I want to congratulate Bucknell. They are having an excellent season and will finish with a winning record in the Patriot League.
Our focus has been on Holy Cross since Sunday. They have been hot and cold this season and will be looking for its first home win on Senior Day, so we know they will be extra motivated. They are a very well coached football team and have an excellent freshman quarterback. Having worked with their Head Coach Tom Gilmore, back at Dartmouth in the 90's, I know he will have his team ready.
This will also be the final game for our 24 seniors. This is an important game for us. We want to make sure and send our seniors off on the best possible note and take a win into the offseason, as motivation for the guys getting ready to go through our winter training program.
Finally, I wanted to thank everyone for their support throughout the season. It has meant a lot to the program to see the faces in the stands or hear the encouragement during the week. We hope to see as many of you as possible in Worcester on Saturday and wish all of you a happy holiday season!
Win the Day!

Coach Kelly