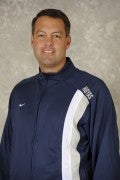 We have just returned from Omaha, NE after a very hard fought 1-0 win over Creighton. Morrison Stadium is one of the crown jewel facilities in college soccer, and the energy from the 3,000 in attendance was driving Creighton forward all night long. It was an incredibly even affair with very little being given up by either side. Creighton is talented, organized, athletic and tough, and I was proud of our boys' ability to match that challenge throughout the evening.
The winning goal came with just seventeen minutes remaining with a sequence started by BIG EAST Defender of the Week, Joshua Yaro. Yaro played a precise entry ball up to sophomore Alex Muyl. Muyl played a creative ball over the top of the Blue Jays defense to senior Austin Martz, who played a long switching ball that found the foot of BIG EAST Rookie of the Week, Arun Basuljevic. Arun made no mistake with his opportunity, and that was the strike that handed the #2 ranked Creighton their second loss of the season. Highlights from the game can be found here.
The final three BIG EAST games loom with Xavier, currently sitting in first place in the league, on deck to come to the Hilltop.
The Week Behind: at Creighton, 1-0 win
The Week Ahead: Wednesday, October 29 vs. Xavier – 2:00 p.m. (Shaw Field)
Saturday, November 1 vs. St. John's – 1:00 p.m. (Shaw Field)
BIG EAST Standings
Xavier             (4-0-2)  14 pts
Providence    (4-0-2)  14 pts
Creighton      (4-1-1)  13 pts
Georgetown  (3-2-1)  10 pts
Marquette      (1-2-3)  6 pts
Villanova       (2-2-2)  8 pts
DePaul           (1-3-2)  5 pts
Butler             (1-4-1)  4 pts
Seton Hall     (1-4-1)  4 pts
St. John's      (1-4-1)  4 pts
I'll let you know how things go against Xavier, and, in the meantime, Go Hoyas!