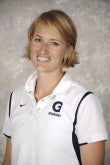 The Hoyas raced this past weekend at the 50th Head of the Charles. If you want the official (or, shorter!) version, check it out here. Along with an alumni eight of women and four eights of alumni men, Georgetown had a strong presence at the race and a lot of fun in the cold and windy conditions that day in Boston. Thanks to Liz Dennison F'06 for organizing the women's crew, who rowed to a 16th-place finish and an automatic slot for next year!
We've been emphasizing erg scores this fall as I've found it's really challenged our athletes in a great way to compete harder with each other, so the Champ Eight for HOCR was an erg boat with our best 6Ks to date as a team. While this may or may not be our fastest line-up, it gives the athletes a very concrete way to earn a seat. Since no one is going fast at the top level in our sport with slow ergs, this is a reality we must accept and improve on as we drive the performance of this team forward.
We were happy with how the Champ Eight executed Sunday's race. They rowed long and well and approached it all with the right attitude. We were slow off the line as we started, but put together some very fast splits through the third mile and through the finish, despite rowing lower than most crews through the body of the race and the sprint. We've got a different line-up in place for the Princeton Chase this coming weekend and the goal is, quite simply, to challenge ourselves to take that next step in pushing harder right from the start.
The Lightweight Four also had a great race; very aggressive and well rowed. Unfortunately, they got stuck on the outside of the Eliot turn, which was a frustrating development. Senior coxswain and captain Maggie Rush steered a great course in spite of the obstacles. However, that's the Charles for you – every crew has challenges and a story to go along with their result. They executed their race plan and achieved their pre-race goals, but they are fired up to go again this weekend.
This coming weekend at the Princeton Chase will be the debut of our freshman crews and double-duty racing in the eights and fours. If you are nearby, you are welcome to find our tent and join the cheering section! Further information can be found here along with a race schedule.
We've had a number of alumni come through town and join us in the launch to watch practice this fall. Please know you are always welcome on the Hilltop and out on the Potomac with us if you ever are in town. Whether you rowed for four years or one, you are a part of our team and we love to be connected with the women that have come before us.
Here's to a strong end to the fall. Hoya Saxa!