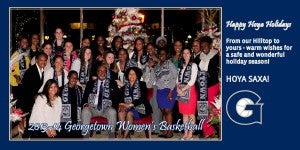 We opened our season with a win against Richmond, dropped two (California and South Dakota State), and then came back with a hard fought win against Princeton. I can report the 2013 Great Alaska Shootout trophy belongs to Georgetown after our wins against Nicholls State and the host, University of Alaska-Anchorage. Next, we defeated crosstown rival George Washington before facing our remaining non-conference competitions with Michigan State, Western Kentucky and Florida.
We have several players earning accolades: Andrea White, Natalie Butler and Katie McCormick were named to the Shootout's All-Tournament Team for their standout performances during the games. Butler was also named Player of the Game after our win over Nicholls State and White received the tournament MVP award (well done, Dre').
In addition, Natalie Butler has been named BIG EAST Rookie of the Week three times (November 18th, November 25th and December 9th), while team captain Andrea White was named to the BIG EAST Honor Roll on December 2, 2013. And the season is still young…..meanwhile, birthday greetings for December go to our Sports Information Director Barbara Barnes (5th) and myself (15th). Congrats to Coach Kenya Kirkland for completing degree requirements for her Master's degree in Sports Industry Management.
Happy Holidays!
Jim Lewis
Head Coach, Georgetown Women's Basketball