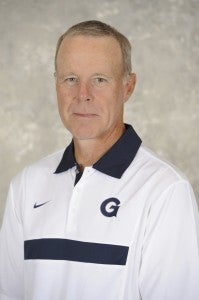 Saturday was not a great day for the Hoyas. You cannot afford to execute as poorly as we did in all three phases of the game against a team as talented as Brown and expect to win. But I told the guys there is still a lot of football left and the story for this team is far from written.
When I talked to the team on Sunday, I talked to them about the need to pick-up the tempo in practice. It has deteriorated of late and that will not continue. The guys have taken that to heart, and this morning was one of our best Tuesday practices of the year in terms of tempo.
Our team knows that there is still a lot to play for this year. We have not yet started our Patriot League schedule and with the exception of Lehigh, everyone else in the league has struggled through the early portion of our schedule. But for now our focus is on Princeton and what promises to be a special Homecoming on the Hilltop.
Everyone associated with this program is looking forward to Saturday. I know our team is excited to play in front of the large amount of alumni and families expected to be in attendance. I was told yesterday that Saturday's game is already sold out, so again, I want to thank everyone who plans on coming out to support this team.
Finally, I wanted to congratulate everyone who will be honored at this Friday's Athletic Recognition Event, including Brian Wiese (men's soccer, Coach of the Year), Shikara Lowe (softball, Female Athlete of the Year), Otto Porter, Jr. (men's basketball, Male Athlete of the Year) and Andy Riemer (men's soccer, Duffey Scholar Athlete of the Year). All are very deserving and have played a role in making Georgetown University a special place.
Win the Day!
Coach Kelly