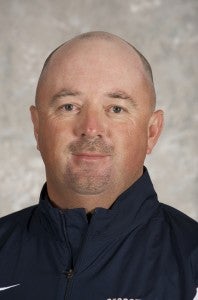 This past weekend was a very successful one of for the team. It was always going to be a big weekend, perhaps our toughest two games of the season as faced off against nationally prominent programs in UCF and UConn.
Thursday was our first meeting with Central Florida and it was a very tough game between two very good teams. We played extremely well and deservedly went up 1-0 on a great goal by Kailey Blain. I cannot be any happier to see Kailey back on the field for us as she has been desperately unlucky with injuries for the last two years and she has worked so hard to get back on the field when many others would have merely walked away. While we had some chances to add a second, UCF battled hard to come back into it and tied the game on a penalty kick. Despite both teams pushing hard for the winner the game ended in a 1-1 draw. It really was a very exciting game and I think I blacked out twice with all the chances for both teams.
On Sunday we faced off against former BIG EAST foes UConn, and won a tense affair by a 2-1 scoreline. Daphne scored to give us a lead and we dominated play for most of the game. Unfortunately UConn tied it up late in the game. Just when it appeared that we were heading into overtime, Kaitlin Brenn scored a very important goal and we held on for a well deserved win.
The girls are very excited to have finished our non-conference games unbeaten with an 8-0-1 record, but understand that now the conference starts up and we have no margin for error. This week we host a very good DePaul team on Thursday and on Sunday BIG EAST rookies, Xavier University.
We are hoping to continue our good form to get Big East play up and running.
On a side note we continue to get some respect nationally being ranked #8 (Soccer America & TopDrawer) and #10 (NSCAA).
Here's hoping we can keep it going.
Thanks again for your support.

Dave Nolan
Head Coach Women's Soccer