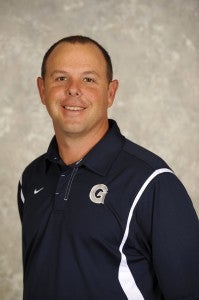 Welcome to the 2013-2014 season, here we go again! The team has been hard at work for the past four weeks and are preparing for their first scrimmage of the fall.
As we prepare for the upcoming year, I wanted to take a moment to introduce our newest Hoya on staff. Nick Williams joins our staff as a volunteer after coaching stints at his alma mater (Towson), Notre Dame and Florida. We are excited to welcome Nick to the Hoya family. Stef Sparks will continue to volunteer with the team and will be the Director of Operations. Stef will continue to add value to our program; we are so grateful she continues to be involved.
I have attached our fall schedule, hopefully you will get an opportunity to get out and watch us play. As you can see, it is a very challenging schedule. We believe this will prepare us for the spring and help the coaches evaluate all of the players against quality competition.
Saturday evening, we welcome back the class of 2013 as we host the annual Banquet honoring last year's team, specifically the senior class (Abby Bisbee, Kelsi Bozel, Rosie Corcoran, Lauren Gray, Ashley Hunter, Dina Jackson, Erin Lovett, Evan O'Neill and Sophia Thomas). Through their efforts, both on and off of the field, they brought the Blue & Gray back to the NCAA tournament, earning a six seed after an impressive 13-5 regular season campaign. We are looking forward to having them back on the Hilltop and honoring them for their contributions.
As always, thank you for your continued support. Through this support, we are able to give each and every player a positive experience. We are looking forward to seeing you this fall.
Hoya Saxa!
Ricky, Lauren, Meg, Nick and Stef