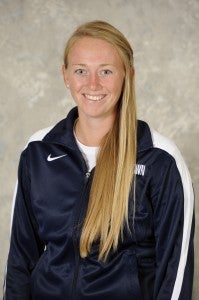 Greetings from the Hilltop! Our Hoya Field Hockey season is in full swing. We have a group of 21 young women who are working hard everyday to better themselves and who proudly fight for the Blue and the Gray.
"This year the vibe and chemistry that beams out of every player in the group is something special, and the young talent and passion is truly inspiring. It is both an honor and pleasure to be a part of such an amazing group of girls who make waking up before the sun rises for practices, shin guard tans, and taking ice baths all seem fun. In the group this year, the dedication to run every sprint and work through every drill comes from the teammate working for you to your right and to your left. We work for one another and for all of the people that support us to be better each day, we are a family. All of this is for moments like our first win of the season this past Sunday against the College of Holy Cross, and it will certainly not be the last!"
–Senior, Caitlin Samela
 
Caitlin's candid account of our team is one of the many reasons that this 2013 team is special. The girls are motivated, talented, and are truly inspirational to be around.  They focus on making the best of the resources we have, they cherish the relationships they have with their teammates, and they are grateful for the opportunity to compete for one of the best academic institutions in the country.
Go Hoyas,
Tiffany Hubbard
Head Coach, Georgetown Field Hockey