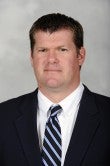 Happy Holiday wishes from the Men's Lacrosse staff and team! We wanted to reach out before the craziness of the holiday season takes over to wish you and your family the very best over the holiday and New Year celebrations.
The guys finished up finals last week and will get some much needed rest before the beginning of the semester which is January 7. Besides the start of school, our team will run our conditioning test to make sure we are in good shape heading into practice. It is a combination of anaerobic and aerobic repetitions that will allow the coaches to see who spent time and who invested time over the four week hiatus from mandatory workouts. Our first practice is January 7 and our coaching staff is meeting to draw up a five week timeline leading up to our first game. We will meet as a team before practice to watch film on ourselves and to re-introduce our schemes to the team. For the first week, we will go over two full field aspects of the game that we can drill with no contact. We will also re-teach the essential individual fundamental skills to have a strong foundation to build on.
As most of you know, our schedule is a good one with plenty of challenges week in and week out. If you haven't seen it, please click here to view it. As soon as our television games get announced, I will pass that information along to you in one of my updates.
The clock is on, we face off against the Notre Dame Fighting Irish in eight weeks! After speaking with each player at the end of the semester, it is apparent the team is ready for the challenge in Indiana. I am looking forward to seeing how the team responds after the break and to see their attitude towards every aspect of the program.
Happy New Year to all of you and your families and we look forward to the first update of the year coming soon in 2015.