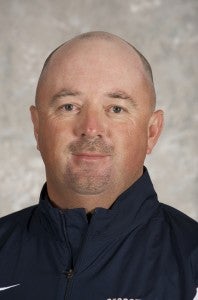 This past weekend's BIG EAST Championship was a disappointing one for the players and coaches. We had traveled to Marquette with high hopes of bringing back our first BIG EAST Championship, but unfortunately left empty handed. On Friday we suffered a cruel 1-0 loss to DePaul after dominating the game from the first minute to the last. Despite out shooting them 26-2, they scored on their only real chance and we just just couldn't find a way past their GK and back line. The girls played really well, perhaps our best first 45 minutes of the season at least, but credit to DePaul they didn't buckle and somehow emerged with the victory. It wasn't a happy plane ride home to say the least.
The bright note from the weekend was the honoring of Daphne Corboz as BIG EAST Midfielder of the Year and Emily Menges as Defender of the Year. In addition, Kailey Blain joined Emily and Daphne on the First Team, Kaitlin Brenn and Alexa St. Martin were named Second Team with Emma Newins on the Third Team. All six girls were very worthy of this recognition by the conference coaches and we are all very proud of them.
Thankfully we still have some soccer to play and on Monday the NCAA awarded us a tournament berth for the NCAA's. Although we were confident we would be selected, after suffering huge disappointment two years ago, we were still anxiously waiting to see our name on the board. This Saturday, we host a very dangerous La Salle team at 1 p.m., our first ever NCAA home game in program history. La Salle are Atlantic 10 Champions, have a very potent attack and will be a real challenge for us.
However I know the girls are excited to get back out on the field and look forward to the game. If you are in the area, please come support us this weekend. As always, thank you for your continued support!

Dave
Dave Nolan, Head Coach Women's Soccer