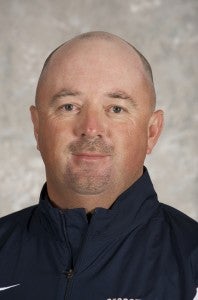 The regular season finished well for us last weekend as we came away with a 2-0 victory over my alma mater, Seton Hall University on Saturday. The game was an important one for us as we knew a win would guarantee us a bye into the BIG EAST Semifinals and also keep us on track to be a seeded team for the NCAA Tournament. However, Seton Hall knew it was win or their season would be over as they attempted to make a last ditch effort to make the BIG EAST Tournament. A fast start was needed to help stop the Pirates getting any momentum and we scored after 30 seconds when Audra Ayotte finished well after a flick on by Marina Paul. Barely 10 minutes later Daphne Corboz scored our second which took much of the fight of the Hall. Credit to Seton Hall they kept battling until the end, making it difficult for us and we couldn't quite find a 3rd goal, but our defense was very comfortable as we kept our 9th shutout of the season.
It was definitely a day for records as we scored our 55th & 56th goals of the season, a program high. The win also finishes us with 15 wins, 2 ties and only 1 loss, again a new program record. Individually, Daphne scored her 35th career goal to go past Camille Trujillo as our all-time leading scorer. We are very proud of how she has battled back from injury at the start of the year.
This weekend we head out to Marquette for the BIG EAST Tournament where we await the winner of today's DePaul vs. Villanova game. Either team will be tough and we hope to move on and compete for our first BIG EAST Championship on Sunday. On Monday the NCAA committee will announce the 64 teams selected for the tournament and we hope to be in the draw regardless of this weekend.
The NCAA draw will be available to watch on http://www.ncaa.com/championships if you are interested.
At regular season's end we have an official NCAA RPI of #8 which we hope gets us a home game or two in the NCAA tournament and we are currently ranked #8 (TopDrawer), #8 (Soccer America) and #15 (NSCAA).
It has truly been a great season for us so far and we hope to take it even further. I cannot finish this letter without mentioning our 6 special seniors who we honored on Saturday vs. Seton Hall: Kailey Blain, Kaitlin Brenn, Colleen Dinn, Mary Kroening, Emily Menges and Alexa St. Martin. Coaching here at Georgetown has allowed me to work with some wonderful soccer players and even more importantly great kids. These 6 girls have been a pleasure to have in our program both on and off the field and I know they are determined to leave an even greater legacy before all is said and done.
Hopefully next week we will be holding our first BIG EAST Championship.
Dave
Dave Nolan, Head Coach Women's Soccer