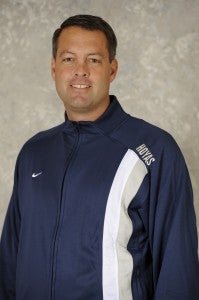 Georgetown Soccer Family,
When you are having a successful season, each game becomes more important than the last. This has been the case for our group this year, and it is why our loss tonight to a gritty St. John's team is a tough one to swallow. In all my years coaching in the Big East both at Georgetown, and as an assistant at Notre Dame, have I never had a team go to Belson Stadium and put on a more dominating performance than we did tonight. We possessed the ball tremendously well, dictated the tempo, and only lacked the final touch to produce the elusive first goal. After St. John's went down to ten men after a red card just before halftime, it truly became one way traffic. Amazingly, with just twenty minutes to play on one of their only runs into our half, a fairly innocuous shot from 25 yards managed to find its way into the back of the net. It was a goal that netminder Tomas Gomez saves ninety-nine times out of a hundred, but it must have been that hundredth one! In truth, we needed to generate more quality chances for all the possession we had, and our finishing touch was off when we needed it.
The silver lining was the return of freshman Joshua Yaro tonight. After missing most of the month of October with a broken arm, he played tonight without missing a beat. We'll need all hands on deck for our season finale, and senior day, this Friday against a very talented Villanova squad. We still are contending for the Big East regular season title, and have assured ourselves of a top four finish regardless of all the scenarios going into next weekend. Hopefully we can send our seniors out with one final regular season win.
I'll let you know how the Villanova game goes on Friday, and in the meantime, Go Hoyas!

Coach Wiese