Hoya Fans:
The Hoyas return home this Saturday, coming off their thrilling 91-87 overtime win over the Indiana Hoosiers in Madison Square Garden, their first ranking in the AP Poll this season, and a tough loss before a raucous crowd at Xavier on New Year's Eve.  The Hoyas now have two huge BIG EAST home games at Verizon Center!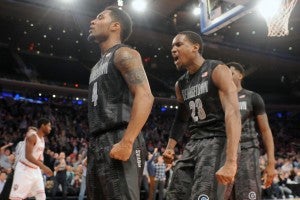 Creighton Bluejays: Saturday, January 3 (tipoff at 4:30 p.m. ET).  Please note that this is the second annual Men Against Breast Cancer game, and all fans in the 100 and 200 sections of Verizon Center will receive a free Georgetown Men Against Breast Cancer t-shirt!
Marquette Golden Eagles: Tuesday, January 6 (tipoff at 7:00 p.m. ET).
Hoya Hoop Club members showed up in droves to Madison Square Garden and loudly cheered the Hoyas onto victory.  We need to do the same thing on our home court, so please come out to Verizon Center and be vocal supporters of your Georgetown Hoyas for their first two BIG EAST home games of the season!
As a reminder, all Hoya fans are welcome to join the Hoya Hoop Club at Gordon Biersch after both the Creighton and Marquette games.  Don't forget to show your server your Georgetown Basketball season ticket card or a printed or mobile ticket to that day's game to receive a 10% discount off your bill.
BIG EAST Excels in Non-Conference Play
The BIG EAST conference flexed its muscles in non-conference play!
Team RPI: The BIG EAST currently has 7 teams in the top 50 of the RPI and 4 in the top 20.
Conference RPI: As a conference, the BIG EAST is ranked second overall in the RPI standings.
Quality Wins: The BIG EAST has the most top 100 wins as a conference, with 31 total.
AP Poll: The BIG EAST currently has three teams ranked in the top 25 of the AP Poll  (Villanova [6], St. John's [15], and your Hoyas [25]).
Home and Away Game Tickets
Current athletics donors at the $50 level and above and men's basketball planholders have the benefit of being able to purchase single game home and away tickets to see great BIG EAST action for all Georgetown games.  Don't miss out on your opportunity to see the Hoyas play in places like Madison Square Garden, Hinkle Field House, the Wells Fargo Center, Verizon Center and many other venues, and to celebrate along the way with other Hoya fans.  Becoming part of the action is simple:
To donate to Georgetown Men's Basketball and become a member of the Hoya Hoop Club today, click here.
To purchase away and home game tickets (after making your donation to Georgetown men's basketball), click here.
To see a complete listing of the benefits of donating to the Georgetown men's basketball program, click here.
Hoya Hoop Club Table at Verizon Center
Be sure to stop by the Hoya Hoop Club table outside Section 120 before every Hoya home game to get the latest info on the Hoya Hoop Club.  And be sure to ask about how you can receive seat upgrades to that day's game and free tickets to upcoming games by making a simple donation!
New Member Incentive Program
The Hoya Hoop Club's New Member Incentive Program is back!  Don't miss out on this unique opportunity to get free tickets or seat upgrades to exciting BIG EAST action, including at the BIG EAST Tournament, and to get your friends and family out to support the Hoyas!  All the details can be found here.
Hoya Hoop Club Game Watches
Chicago: As usual, Hoya fans will be gathering at Theory.
New York: Hoya fans in New York will be cheering on the Hoyas at Bar 515.
San Francisco: The San Francisco Alumni Club will be hosting a game watch at the Bus Stop for the Creighton game.
If you have information on any upcoming game watches, please email me at at mpguerrera@me.com so we can share that information in future newsletters.
Let's Go Hoyas!
Mark P. Guerrera C'91
President, Hoya Hoop Club