After two huge home games, the Hoyas hit the road for their next two games! The Hoyas will face the defending BIG EAST Tournament champion Providence Friars this Saturday. The DePaul Blue Demons, who are off to a hot start in the conference winning their first two BIG EAST home games, are up next!
Providence Friars: Saturday, January 10 (tipoff at 12:00 p.m. ET)
For those going to the game, the Hoya Hoop Club Out of Town Advisory Committee (thank you Jim Tierney C'95) has arranged a post-game gathering at Trinity Brewhouse, 186 Fountain Street, immediately following the game.
DePaul Blue Demons: Tuesday, January 13 (tipoff at 9:00 pm. ET)
For those going to the game, the Hoya Hoop Club Out of Town Advisory Committee (thank you Maureen Hartigan C'85, P'18) has arranged a pre-game gathering at Harry Caray's Rosemont, 10233 W. Higgins Road, starting at 6:00 p.m.
Home and Away Game Tickets
Current athletics donors at the $50 level and above and men's basketball planholders have the benefit of being able to purchase single game home and away tickets to see great BIG EAST action for all Georgetown games.  Don't miss out on your opportunity to see the Hoyas play in places like Madison Square Garden, Hinkle Field House, the Wells Fargo Center, Verizon Center and many other venues, and to celebrate along the way with other Hoya fans.  Becoming part of the action is simple:
To donate to Georgetown Men's Basketball and become a member of the Hoya Hoop Club today, click here.
To purchase away and home game tickets (after making your donation to Georgetown men's basketball), click here.
To see a complete listing of the benefits of donating to the Georgetown men's basketball program, click here.
Hoya Hoop Club Game Watches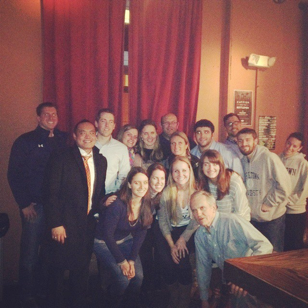 Chicago: Hoya fans will be gathering at Theory for the Providence game.
London: L'Anima Cafe for the Providence game (Closest Tube – Liverpool Street or Shoreditch High Street)
New York: Hoya fans in New York will be cheering on the Hoyas at Bar 515.
Philadelphia: Hoya fans recently gathered for a game watch at Milkboy (left). For more information on other game watches in Philadelphia, email philadelphiahoyas@gmail.com.
San Francisco: Come out to The Bus Stop for the DePaul game.
Washington, DC: Black Finn, with the DC Alumni Club, or Penn Social, with Casual Hoya and the Stonewalls
If you have information on any upcoming game watches, please email me at mpguerrera@me.com so we can share that information in future newsletters.
Get to Know Your Georgetown Hoyas
This season​,​ Georgetown Men's Basketball is giving you the chance to get to know the team through a digital mini-series entitled​ ​#KnowMe.​ ​Subscribe to Georgetown Men's Basketball's YouTube channel for the latest episodes of #KnowMe and other fun #HOYA moments!​ ​​
Check out the next installment of #KnowMe featuring L.J. Peak!