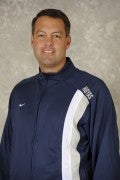 We wrapped up the regular season schedule at Villanova on Friday with a 2-1 win in unusually windy conditions. An early goal from senior Austin Martz got us an early lead, and a late goal from freshman Arun Basuljevic got us the win. We generated some terrific opportunities, particularly over the first 60 minutes, and I was pleased with our attacking sharpness during that stretch of time.
The win moved us up to third in the conference standings, setting us up with a home BIG EAST Quarterfinal rematch with a very talented Marquette side tomorrow. We played them to a 0-0 draw in the conference home opener back on October 4, and I expect a charged second run at each other. Marquette likely needs to win in order to keep their season alive, and we are looking for our elusive first ever BIG EAST Conference tournament title as well as trying to solidify a seed for the NCAA tournament starting next week. Kickoff against Marquette will be at 2 p.m. up on Shaw Field, and the game will be broadcast on the BIG EAST Digital Network for free.
Everyone collectively cross your fingers that our women's team has their name called today during their NCAA Selection Show. They deserve to dance!
The Week Behind: at Villanova, 2-1 win
The Week Ahead: Tuesday, November 11 vs. Marquette – 2:00 p.m. (Shaw Field)
BIG EAST Tournament Quarterfinals
#6 Marquette at #3 Georgetown 2 p.m. (Shaw Field)
#5 Villanova at #4 Providence 7 p.m.
Final BIG EAST Standings
Creighton      (7-1-1)  22 pts
Xavier             (6-1-2)  20 pts
Georgetown  (6-2-1)  19 pts
Providence    (5-2-2)  17 pts
Villanova        (3-4-2)  11 pts
Marquette      (2-3-4)  10 pts
Butler             (2-5-2)  8 pts
Seton Hall     (2-4-3)  9 pts
DePaul          (1-6-2)  5 pts
St. John's      (1-7-1)  4 pts
I'll let you know how things go tomorrow against Marquette, and, in the meantime, Go Hoyas!