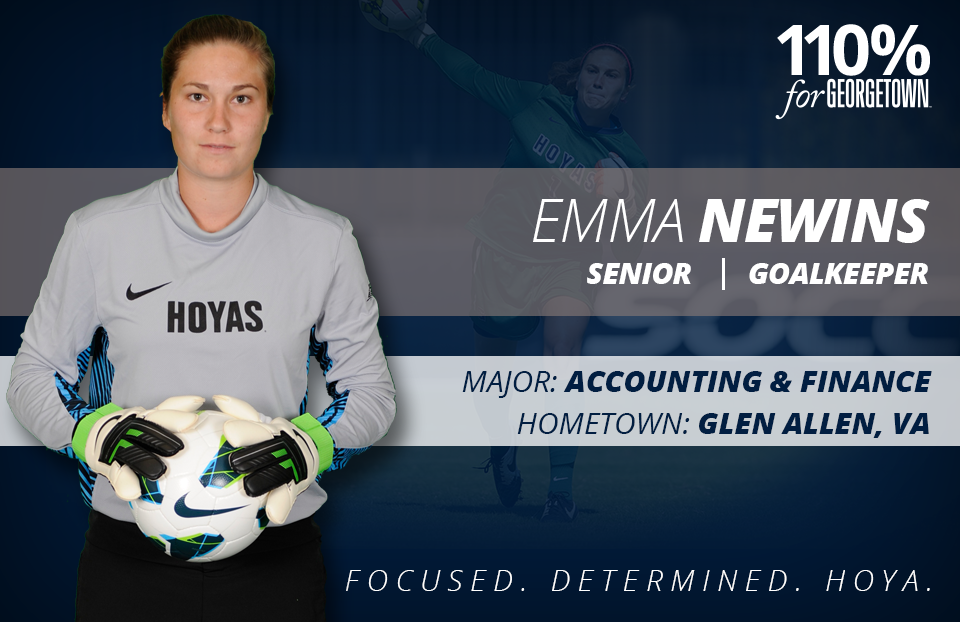 Emma Newins looks to cap off a successful career as the Hoyas enter the BIG EAST Tournament as the #2 seed. Newins is a three-time All-BIG EAST selection as a consistent starter at goalkeeper. In the 2014 season, Newins has had 54 saves with 5 shutouts posted over 16 starts. Also a standout in the classroom as an accounting and finance major, Emma is a three-time BIG EAST Academic All-Star. 
What is your most memorable moment in your playing career at Georgetown?
Winning a BIG EAST Tournament semi-final game against USF in a penalty kick shootout is one of my most memorable moments on the soccer team. The pressure and thrill of the shoot out along with the excitement after winning was an amazing feeling.
What is a game day routine you have?
Our team has a gameday buddies routine where we exchange inspiring quotes and messages to help motivate each other to perform on the field.
What made you choose to come to Georgetown?
I chose Georgetown for its combination of academic excellence and athletic prowess unlike any other university. The DC location also provides an unbelievable college experience.
Do you do any volunteer work in the community?
I am a volunteer for the Grassroots Project, which educates DC middle schoolers about HIV/AIDS. As student-athletes, we work to teach life skills and provide awareness about HIV through various games.
What would you like to say to a donor to The Annual Fund for Georgetown Athletics?
Thank you for your support! You allow our sport to compete on the national level and have helped provide me the most memorable and rewarding years of my life so far.
How do you give 110% for Georgetown?
Going out to the field for an extra session and volunteering in DC for the Grassroots Project are some of the ways I give 110%.
My teammates would be surprised to know that I: Once did ballet
The player on my team who makes me laugh most is: Sarah Adams
If I could vacation anywhere in the world, I would go to: Australia
My greatest strength as a soccer player is: My calm and balanced demeanor
My favorite activity to do in Washington, DC is: Kayaking on the Potomac
My favorite thing about Coach Nolan is: His knowledge of the game, especially from a goalkeeper's point of view