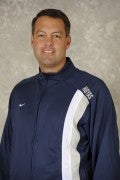 Saturday against St. John's marked Senior Day and our final regular season home game of the season. With a four team logjam at the top of the BIG EAST table, there was no room for error, and I felt the boys came to play on a blustery afternoon. They competed, they were sharp with their passing, and our defensive discipline continues to be one of this team's strong suits. We didn't make things too comfortable with the score line, however, as good possession and chances didn't translate to goals through most of the first half. It took one of our better buildups of the season to spring senior Jared Rist up the left flank, where he pinpointed a cross to the foot of sophomore Bakie Goodman. Goodman one timed a shot from eight yards out to put us up 1-0 with just four minutes left before halftime. The score would hold the rest of the way, with several good chances to make it 2-0 going the way of the Dodo. Game highlights can be seen by clicking here.
Seniors Tomas Gomez, Austin Martz (who was injured and unavailable to play), Jared Rist, Tyler Rudy, and Tom Skelly were all honored before kickoff for their four remarkable years on the Hilltop. Gomez, Rist, Rudy and Skelly all played important roles on the field on Saturday, and went out with a professional performance. So far, as a group they have gone 53-17-13 overall and 22-9-3 in BIG EAST play, and Gomez has amassed 36 career shutouts (a program record). Hopefully we haven't seen the last of this group on Shaw Field!
The Week Behind: St. John's, 1-0 win
The Week Ahead: Friday, November 7 at Villanova – 2:00 p.m.
BIG EAST Standings
Creighton      (6-1-1)  19 pts
Providence    (5-1-2)  17 pts
Xavier             (5-1-2)  17 pts
Georgetown  (5-2-1)  16 pts
Villanova        (3-3-2)  11 pts
Butler             (2-4-2)  8 pts
Marquette      (1-3-4)  7 pts
Seton Hall     (1-4-3)  6 pts
DePaul          (1-5-2)  5 pts
St. John's      (1-6-1)  4 pts
I'll let you know how things go against Villanova, and, in the meantime, Go Hoyas!