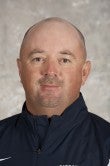 The regular season drew to a close this weekend and I have to be honest, I really don't know where the time went this fall. On Friday night, we faced off against my alma mater, Seton Hall, in a must win contest as we chased a good seeding in the BIG EAST Tournament and looked to build our resume for the NCAAs. DePaul's earlier win over St. John's meant that if we won against the Pirates, we would finish second and get a bye in the first round of the conference tournament.
The girls knew the significance of this and went into the game with a great resolve. Thankfully, our effort was too much for a Seton Hall team that had the best defensive record in the conference prior. From the first minute we attacked relentlessly and finished up with our best win of the season, 8-0 with three goals from Daphne Corboz and three assists from younger sister Rachel driving us on. I was really happy with our approach as we have had similar games this year when the ball simply wouldn't go into the net, but the players kept believing in our style of play and we finally got our reward.
This means we can rest some people as we await the winner of the St. John's vs. Villanova game to be played on Tuesday night. Having played both earlier this year, we are confident we can get a result on Friday night against the victor on the campus of St. John's.
The semi-final match up will be shown on the BIG EAST Digital Network, so be sure to tune in. However, if you are in the area it would be great to get as much support as we can for Friday's game, so do your best to come see us live.
Regardless of this weekend we are still  hopeful that our body of work will get us an at-large invitation to the NCAA tournament on Monday evening, so fingers crossed! This group deserves to play in the national tournament and I am hopeful we can.
Thanks again for all your support this year.