I hope everyone had a great Thanksgiving holiday! I realize everyone is busy at this point of the year but wanted to give you a recap of a great few days for Georgetown Lacrosse.On Thursday, November 20, we had an alumni group meet up at Trattoria Il Mulino for a great dinner event. The food was great, and the company even better.  It was awesome to see so many of our program's supporters. As always, I really enjoyed hearing the stories about the past and love the passion our alumni have for Georgetown Lacrosse!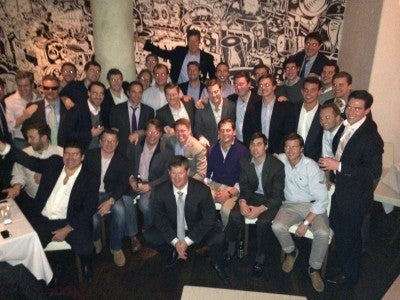 The following day, Pat McArdle and I traveled the streets of New York City with our current junior class to meet some of our alums at their place of employment. Thanks to Kyle Sweeney and Pat Collins (DEA) at Maverik Lacrosse, Don Devine and Todd Cochran (Liquid Holdings) at Maverick Capital, and Steve Iorio, Gerry Reilly, and Craig Dowd (Union Bank) at Alliance Bernstein. The information they shared and the advice that they provided was tremendous and made for a really positive experiece for our current players.
This two day event has become a staple for our program. I also want to thank Kelli Myers, Myrhia Brewer and Trevor Casey for organizing the dinner and Pat McArdle for organizing the Junior Day.
As for the team, we have finished up with our individual skill sessions and strength training segment of the year. We put a heavy emphasis on weight training and footwork development this fall. As we reviewed the numbers from our recent strength tests, our staff is excited about the work ethic and progress we made in the weight room.
We will conduct a run test and final team meeting to close out the year before we hit exams next week. The staff won't see the team until the first day of school for the spring semester on January 7.  We will stress that it is extremely important that the group maintains their fitness level over the break.  A run test upon returning to campus will allow us to determine who worked hard during this time.
For the record, we open up against Notre Dame in eleven weeks!