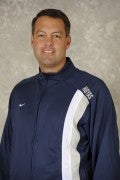 Despite the forecast for some rain on Saturday, the game is already sold out to the general public for the NCAA Elite 8 match up against Virginia. We have been getting fabulous student support so far in the tournament thanks to Dan Janney C'87 and Noelle Montgomery I'87, who purchased all the tickets for the students so they could attend for free. The upcoming Elite 8 game student tickets are being bought on their behalf by Andy B'87 and Michelle Pelletier. They are distributing close to 1,000 student tickets ahead of the game for field level standing room only. Bring a poncho!
Watch For Free Again! Thanks to an alumni donation, the UVA game will be broadcast online for free with TV production quality. Click here to watch. Kickoff is 1 p.m. on Saturday. The broadcast will feature multiple camera angles, replays and, of course, commentary and analysis from our Hoya all-star tandem of Dan Helfrich and Tom Greaser.
Best in the Land? Georgetown sophomore defender Joshua Yaro was named as a semifinalist for the MAC Hermann Trophy on Tuesday. He is one of sixteen men's soccer student athletes in consideration for the award given to the top player in college soccer. The women's program also has senior Daphne Corboz as a MAC Hermann Trophy semifinalist as well, and there is a fan vote component to the award, so please give Joshua and Daphne a hand! You can vote for them by clicking here: http://lockerdome.com/machermanntrophy. Spread the word and help push them onward!
Go Hoyas!