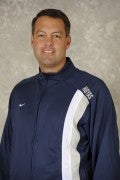 I am still having a hard time coming to grips with the fact that we aren't practicing today and preparing for the College Cup. Losing to Virginia in penalty kicks on Saturday was as heart wrenching a result as any in my career. The boys played a marvelous game in the most pressure packed of stages, and their spirit and class will be what I remember most about that game and this group.
It was a dismal, rainy December day, and the sold out crowd showed up anyway, and provided the seniors with the best environment of any game they have ever played in. Virginia came into Shaw Field with a defensive game plan, and they were disciplined with their execution of it. Ten minutes into the second half, Senior Austin Martz hit the shot of his life on a one-timer missile into the upper corner of the net from the top of the box, and it looked like we were home and dry on the wet day. 
We were comfortable and relatively untested throughout the contest, but unfortunately human nature kicked in over the final five minutes of the match with so much at stake. The boys compressed back not to concede, which gave UVA the bit of time and space needed to pump balls into our box and hope for something to transpire. With just 53 agonizing seconds left, they found the equalizer on a big ball into the box that fell to the wrong color jersey. The response from the boys in the overtime was nothing less than extraordinary, after being gutted by the late goal. In the twenty minute overtime period, we outshot UVA 5-0, and took four corners to UVA's none. One resulted in a Josh Turnley header that the UVA goalkeeper did brilliantly to save. Once into penalty kicks, it became a matter of chance and this time chance favored the Cavaliers.
I can't overstate the pleasure it was to coach this group. Like any good team, the seniors are the ones who drive it onward, and that was vey much the case with this team. Tomas Gomez, Austin Martz, Jared Rist, Tyler Rudy, and Tom Skelly all shaped and defined this season, and will be greatly missed.Thanks to all the Hoya soccer fans who supported us throughout the year, and helped make this journey one to remember, and a special thanks to the thousand or so students, who braved the cold and rain to ring Shaw Field on Saturday. Regardless of the result, it was special to see so much of the Georgetown community come out to support the team. My staff and I will quickly start looking toward 2015, and see if we can complete the unfinished business of getting back to the College Cup!Go Hoyas!