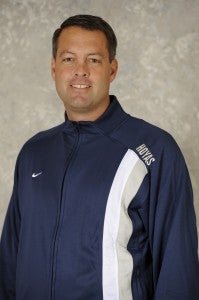 The disadvantage of playing a hard schedule is that if you don't get things just right, you're likely to lose. The advantage of playing a hard schedule is that you find out a lot about yourself in those games. That certainly held true for our opening weekend in Florida. After a lightning delay Friday night, we lined up for a late night tilt with Florida Gulf Coast in front of over 1,500 fans, the third largest crowd in their history. It was a tough opponent, who was defensively inclined to make things hard for us on the evening, and they did a good job of limiting chances. We were able to generate ten corner kicks through the game, two of which produced easy chances to finish, but inexplicably neither were converted. A goal would opened the game up, but it never came. A 0-0 tie, and a frustrated group of boys!
On Saturday, we drove two hours up the road to Tampa, expecting to play the University of South Florida on Sunday night. Upon showing up at the field for warm up, an impressive lightning storm showed up with us. We waited close to four hours for it to pass before scratching the game, and electing to play Monday morning instead. USF was determined, athletic and direct. I think the trip took it's toll on us as we lost defender Josh Turnley in the FGCU game, and both Joshua Yaro and Bakie Goodman early in the USF game to injuries (although all are hopefully very short-term). We lost a goal on a corner kick midway through the first half, and it wasn't until halftime that I thought we started imposing on the game. In the second half, we hit the post on an Alex Muyl header and the rebound fell to sophomore Declan McCabe, whose shot from close in was cleared off the line by a USF defender. As we pushed for the equalizer, USF scored on a counter attack to put the game out of reach. While it was a hard result to swallow, it was great to see junior PJ Koscher come on to replace Yaro, and do a tremendous job for us.
We have a few days for our training room to earn its keep before we face two soccer powerhouses here at Shaw Field. Akron visits the Hilltop on Friday afternoon followed up by the #1 ranked team in the country, UCLA, on Monday. A great opportunity for us to bounce back!
I'll let you know how things go against Akron, and, in the meantime, Go Hoyas!