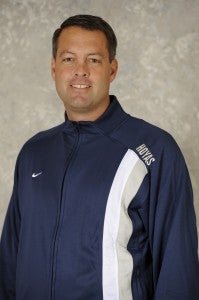 We couldn't have asked for a better August day in DC for our game against #2 ranked Virginia on Saturday. It was the final preseason tune up for both teams, and I felt is was a very good advertisement for college soccer.
Virginia is as athletic as they come and they made it very hard for us to possess the ball out of the back. With six seniors and three juniors on the field at the start of the game, however, I felt we showed an appropriate level of maturity and toughness to handle the challenge from the defending national champions. Senior forward Brandon Allen helped settle things for us about fifteen minutes in, with a clinical free kick goal from about 30 yards out that bent over the Virginia wall into the top corner. Just ten minutes later, junior forward Alex Muyl was sprung in behind to score a nifty, sharp-angled goal to make the game 2-0 at the half. The boys put the game to bed about fifteen minutes into the second half, after junior forward Brett Campbell did very well to set up sophomore Arun Basuljevic with some tight passing for an easy finish from close in. Both teams had the depth to warrant an additional 30 minutes of game time in order to give the entire roster some valuable experience, and our reserve group was very comfortable with possession throughout. A fantastic 20 yard finish from sophomore Declan McCabe put the cherry on top of a very good performance, with a 4-0 overall score line on the day. Once again, freshman JT Marcinkowski and junior Mitchell Auer shared the shutout in goal.
The most encouraging sign from preseason thus far is that our primary attacking core of goal scorers consisting of Allen, Muyl, Campbell, McCabe and Basuljevic, are all looking dangerous and scoring goals accounting for all eight of the goals scored during preseason. Hopefully that trend can hold through a long season that starts in earnest on Friday.