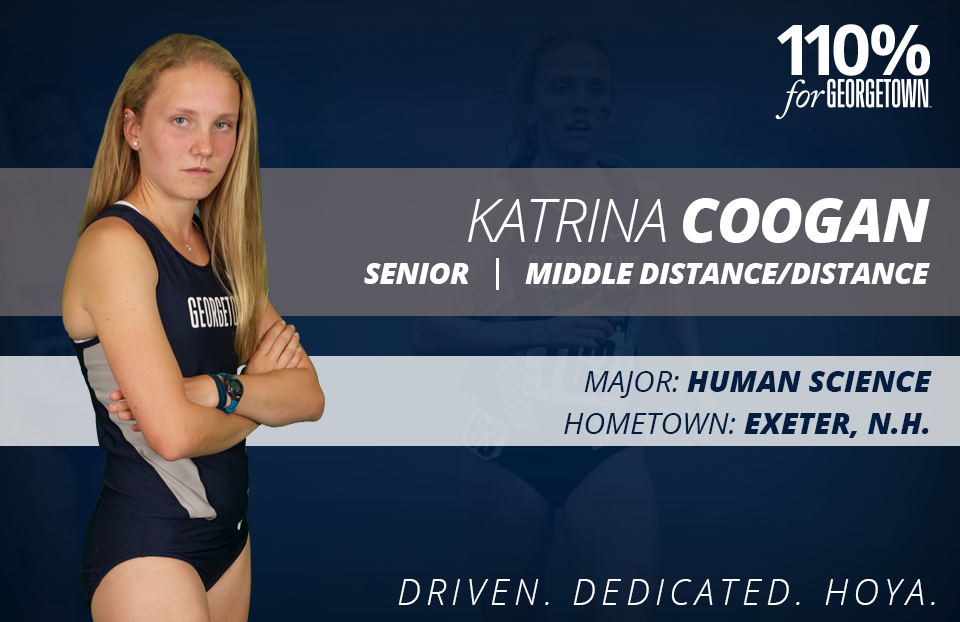 Senior Katrina Coogan is a seven-time All-American whose success in track & field / cross country can be measured by not only her individual accomplishments, but the team's accomplishments as well. In her four seasons of cross country, the Hoyas have turned in three top-five finishes, including the 2011 NCAA Cross Country title. An indoor distance specialist, she has doubled up on All-America honors at three different NCAA indoor championships.
What is your most memorable moment as a Hoya?
I have two moments that I would probably call my most memorable during my time thus far at Georgetown. One would have to be my freshman year when we won the NCAA Cross Country National Championship. The season leading up to it had a lot of ups and downs but we never stopped believing that we were capable of winning. We had so much fun doing it together and striving for a goal with our best friends. Another moment would be when we won the BIG EAST DMR my junior year. Everyone ran so well and we were just focused on beating Villanova.
What is a favorite interaction with a Georgetown fan or alum?
Our BIG EAST Championships for indoor track are often at the Armory in New York City. A lot of Hoya track alums live in NYC so it is always a fun meet to go to with a lot of support. This year we had a lunch following the meet for athletes, families, and alums which was a lot of fun.
What does "Together, We Are Georgetown" mean to you?
"Together, We are Georgetown" means a lot. First, it means coming together as a team to achieve goals. Together we can achieve anything we put our minds to. When we run for Georgetown, we are running for more than just ourselves. We are running for the legacy and tradition that former Hoyas have left behind as well. It means together along with the support of all the people behind the scenes, along with our coaches and teammates, we can represent Georgetown in the best way possible and have fun doing it.
How do you give 110% for Georgetown?
I give 110% by not only focusing on what I can do as a student-athlete to get better but how I can support and encourage my teammates to get better as well. I try to focus on how I can help my teammates succeed and reach their goals.
What would you like to say to Athletics Annual Fund donors? 
Thank you for everything you do!! It would not be possible for many of us to come to Georgetown without your support. You give more than just the opportunity to compete here at Georgetown but an experience of being a part of this team that I would not trade for anything.
Hoya Facts with Katrina Coogan
My favorite class at Georgetown: Health Promotion and Disease Prevention
If I could vacation anywhere, I would go to: Italy
My favorite tourist activity to do in DC is: Checking out the museums
My favorite thing about Coach Mike Smith is: He makes practice fun everyday
My most cherished possession is: Great-grandmother's necklace
My best sport other than track/cross country is: Soccer
My favorite places to eat in Georgetown are: Pizza Paradiso and El Centro
The teammate who makes me laugh the most is: Sabrina Southerland
My teammates would be surprised to know that I: Didn't run cross country in high school