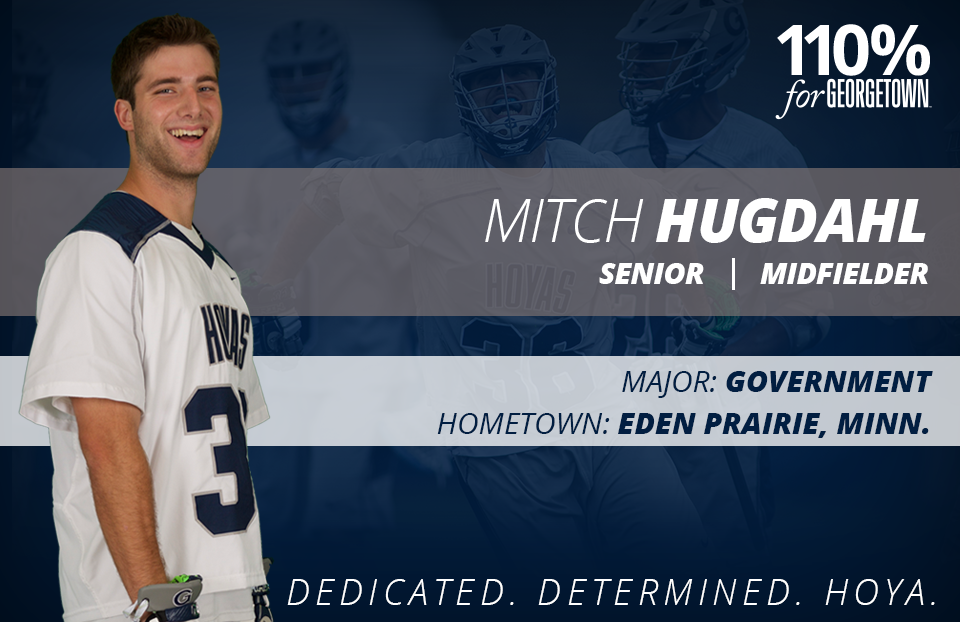 Senior Mitch Hugdahl is part of a 10 member senior class that has engineered the reemergence of Hoya Men's Lacrosse under BIG EAST Coach of the Year Kevin Warne. Mitch scored a goal in the Hoyas' BIG EAST Championship semifinal game win versus Marquette, his fifth on the season. The lacrosse team entered the BIG EAST Championship #12/13 in both national polls with a 9-5 record and will face Denver in the BIG EAST Championship game.
What is your favorite interaction with a Georgetown alum?
My freshman year, Roy Hibbert helped Reilly O'Connor and me open our laundry lockers.
What is a game day routine you have? 
I always sit next to Anthony Heaton on the bus ride to away games.
Do you do any volunteer work?
Joe Bucci and I run Hoya Dreams for our team. It is great putting smiles on kids faces who are stuck in hospitals battling cancer for much of their adolescent years. It really makes us realize how fortunate we are to have our health. My favorite event we do every year is the Easter egg hunt. The kids love it and seeing them get so excited is always a day maker.
How do you give 110% for Georgetown?
I give 110% by putting in extra work whether it be shooting after practice, getting in extra lifts, or taking care of my body in the training room. Also, I help organize events for Hoya Dreams and have participated in Cycle for Survival and the Race for the Cure with teammates.
What would you like to say to Athletics Annual Fund donors? 
We all appreciate all that you do for the school and its athletes, we will do everything we can to make you proud to be a Hoya and a donor. You have helped make our four years here great. Thank you.
Hoya Facts with Mitch Hugdahl
My favorite class at Georgetown: Competitive Strategy in Japan with Dr. Karber
If I could vacation anywhere, I would go to: Breckenridge, Colorado (my aunt has a condo on the ski resort and snowboarding there is one of my favorite things to do)
My favorite tourist activity to do in DC is: Checking out the museums
My favorite thing about Coach Kevin Warne is: He is funny
My most cherished possession is: My hat collection
My best sport other than lacrosse is: Football or snowboarding
My favorite place to eat in Georgetown is: The Tombs and J.Paul's
The teammate that makes me laugh the most is: Reilly O'Connor
My teammates would be surprised to know that I: Never played hockey even though I am from Minnesota
My favorite road trip activity is: Sleeping in hotel beds