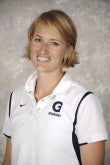 It's a busy time on the Hilltop! The Hoya women are coming off an exciting weekend of racing, into finals (starting today), and racing at the Eastern Sprints this weekend on the Cooper River in Cherry Hill, NJ.
The lightweight crews split the events with Princeton over the weekend on Saturday, April 25, winning the Lightweight Varsity Four soundly and suffering a loss in the Lightweight Varsity Eight. The Varsity Four rowed with dominant rhythm and aggression; they took off and left Princeton in their wake in short order. With a couple of injuries in the Lightweight Eight, we put our best foot forward, but are looking to Sprints this weekend and to the IRA to have the team back to full strength.
The openweight crews traveled to the Occoquan Reservoir to race George Washington and George Mason on Sunday, April 26. For the second straight year in a row, we took home both the Georges Trophy and the 1998 Cup for wins over both programs! The Varsity Eight and Second Varsity Eight both bested both GW and GMU, with the Varsity Four finishing second over Mason. The V8 led wire-to-wire, despite clipping an errant buoy in the first stroke. They had a very strong, aggressive and clean start and really executed the technical and strategic goals we'd be focusing on that week. They truly rowed their own race and rowed to their level of performance, which is something we've been working on.
The 2V8 was down about a seat or two on GW to the thousand, but never for a moment looked pressed or not in control. Their thousand-meter move was well-executed and they proceeded to break GW as they pressed into the second half of the race. I love watching our crews do something challenging like that in the 3rd 500m – the most difficult portion of the race – and it made me so proud of what they're doing and what the whole team is doing. Sophomore (and former walk-on) stroke Sarah Varney set an unrelenting rhythm that certainly reflects the dominance and confidence in this boat.
We've had some great practices this week and are fired up to race this weekend at the Eastern Sprints. Even with finals starting, the team is clearly focused on getting faster in the next couple of weeks. If you're nearby Cherry Hill, NJ, please stop by the Cooper River on Sunday for the finals between noon and 3 p.m.!
Thank you for your support!